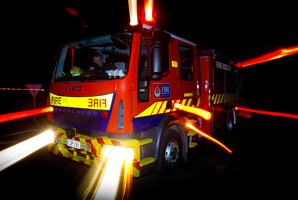 A driver distracted by his dogs crashed his car into a power pole, causing an electricity outage to nearly 300 Masterton homes and nearly $8000 of lost product to a Wairarapa bread-baking company.
The crash took place in Ngaumutawa Rd on Wednesday, just after 4pm.
Fire, police and ambulance were called to the scene after the man lost control of his car, drove off the road, and hit a power pole.
Masterton acting senior sergeant Ian Osland said the man had become distracted by three dogs in the back of the car after they began to fight.
"He's tried to calm them down, which has inadvertently led to a series of incidents causing him to come off the road and into the power pole," Mr Osland said.
The man, who was the car's sole occupant, was not injured in the crash but the vehicle was "undriveable".
Breadcraft (Wai) Ltd, in Judds Rd, was affected by the power cut, which happened during their afternoon bake and caused them to lose about 4000 loaves of bread.
Factory manager Ian Ireland said staff had to work 12-hour shifts to make up for the loss of product.
"It's very frustrating for the staff because it takes them ages to clean up the mess, the dough, and then they've got to start all over again," Mr Ireland said.
Power was down to one plant for about 40 minutes and another lost power for about three hours.
Mr Ireland said the company hoped to recover costs from Powerco, "we'll see how we go".
Powerco network operations manager Phil Marsh said power had been cut to about 270 properties in Masterton for up to four hours.
"Powerco was able to restore supply to the majority of customers within 45 minutes.
"The pole was replaced and supply fully restored around 8pm," Mr Marsh said.
Powerco is likely to seek costs from the driver for the damaged power pole.
For more articles from this region, go to Wairarapa Times-Age