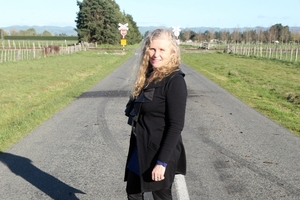 An unusual safety solution to one of Wairarapa's deadliest railway crossings is finally in place.
The rumble strips, which KiwiRail says may be the only ones of their kind used at a railway crossing in New Zealand, give drivers a jarring warning to stop, metres before the Wiltons Rd crossing, in Carterton.
"To our knowledge, strips of this kind are not used approaching level crossings anywhere else in the country," a KiwiRail spokeswoman said.
Eight lots of three rumble strips have been installed, on each side of the otherwise-uncontrolled crossing that has been the scene of two deaths in a little over a decade.
In May 2002 Carterton man Daniel Quin died when he drove his ute into the side of a train.
In February this year Carterton schoolgirl Grace Ellen Diedrichs, 15, died when a ute, in which she was a passenger, collided with a southbound commuter train.
Despite the two fatalities the crossing did not meet KiwiRail criteria for flashing-light and bell alarms.
"The Wiltons Rd crossing currently carries insufficient traffic to justify the installation of flashing light and bell alarms, so the crossing is not currently included in KiwiRail's national upgrading priority list," the spokeswoman said.
However KiwiRail says if the number of trains or vehicles using the road increases significantly in the future the crossing would be added to the list.
Wiltons Rd resident and crossing safety campaigner Janine Vollebregt has put more than 10 years into a campaign for the crossing to be upgraded.
Mrs Vollebregt was pleased the strips were finally in place but said it should have happened a lot sooner.
"I'm happy that the result was prompt this time but disappointed that it took that long and took another death," she said.
Mrs Vollebregt said she would be remaining vigilant and making sure drivers adhered to the precaution.
"[We'll be] making sure people do use them as a slowing mechanism and obviously we don't want to have to ramp it up to a more aggressively controlled crossing, if we do have another fatality, [so] lets hope it does the trick."
For more articles from this region, go to Wairarapa Times-Age