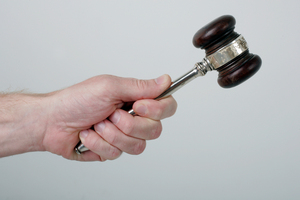 A Wairarapa fraudster who used Trade Me and forgery to snaffle thousands of dollars was denied permanent name suppression and can now be identified as Angela Bryce.
Bryce, 40, from Featherston, appeared in Masterton District Court yesterday and was sentenced on three charges of obtaining by deception $500 to $1000, and one charge of using forged documents.
Judge Bill Hastings said the principle of open reporting outweighed any issues raised by counsel.
According to police, on January 11 Bryce sold a Ford Ka on Trade Me for $500. The winner had deposited the money into her bank account, along with a further $50 to cover costs of her taking the car to him on an arranged day.
After the vehicle did not arrive, the buyer had spoken to Bryce by phone. She had said her stepbrother had been killed and she had had to attend the funeral, but agreed to transfer the money back into the man's account.
After several days the money still had not been returned and the man had contacted her again, only to be given more excuses.
Text and phone conversations continued until February 3, when Bryce had said she wanted to meet with the buyer to "discuss some things".
A meeting was arranged but she had not shown up.
The man continued to organise the return of his money. He eventually received a text saying her father had agreed to pay the money back for her and she had passed on his cellphone number.
The man had spoken to someone posing as Bryce's father and agreed to meet on a pre-arranged day, but that person had not shown up.
Sixty-seven texts had gone back and forth until contact stopped altogether.
On January 18, another man saw an advertisement for a Ford Ka on Trade Me and paid Bryce $225 as a deposit.
The man was told the car would be delivered. However, it did not arrive on the agreed day and he was unable to contact her.
In January, Bryce had terminated her tenancy agreement for a rental property. On February 14, she forged the signature of her landlord to receive $1060, which was her bond.
Between June 7 and 14, Bryce had contacted several friends, asking if they wanted to buy some clothing.
Three women had deposited money, totalling $740, into her bank account.
The items paid for did not arrive and Bryce had made numerous excuses when contacted.
Eventually she met the victims and admitted to them it was a scam and the money had been spent.
Defence lawyer Frank Minehan said Bryce's pre-sentence report focused on her remorse and low risk of re-offending.
Mr Minehan said reparation would be "punitive in itself" and that Bryce, who cares for a 9-year-old daughter, had relocated from Masterton and was attempting to live a new life.
He argued Bryce's name should be suppressed to protect her young daughter. He said Bryce had "serious issues" from her past, for which she needed professional counselling, and should not be expected to cope with publicity that would arise from identifying her.
Prosecuting, Sergeant Garry Wilson opposed suppression and said Bryce's offending was serious.
"She has taken not an insignificant amount of money, from a number of people."
Judge Hastings said Bryce's victims had suffered financial loss, the offending was serious, and she had already been outed on Facebook.
He sentenced Bryce to four months' community detention, with a curfew of 7pm to 7am, to instil "a sense of responsibility" for her actions. Bryce was ordered to pay reparation of $2305, at $20 a week.
For more articles from this region, go to Wairarapa Times-Age