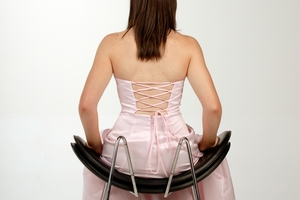 In this day and age, a young person can find almost anything online - from snack food, to brand new laptops and cellphones.
But, when it comes to one of the most exciting purchases of a young woman's life - a dress for her school formal - fashion retailers advise teens to think twice before clicking the "checkout" button.
With ball season still going strong in Wairarapa, and with sites selling evening and cocktail dresses constantly appearing on the internet, many local girls are choosing to buy their ball gowns online - often for under $200.
However, Wairarapa formal wear specialists say they are hearing from countless young women ending up with dresses that are ill-fitting, poorly constructed and often made from low quality materials, making them difficult to alter.
Carterton dress retailer Rebecca Waldron said she is constantly serving girls whose dream dresses have turned out to be anything but.
"Girls come in and tell all kinds of horror stories," said Mrs Waldron, who co-owns Pick A Lily florist and bridal store with sister Megan Chasland.
"They've bought their dresses in what they thought was their size, and they don't fit properly at all. What they're buying from those sites doesn't match what they see in the photo. It's really disappointing for them. Without trying it on, they're taking a big risk."
Mrs Chasland said the prospect of buying a ball gown online is a big drawcard for Wairarapa teens - partly because there are few stores in the region that stock appropriate formal attire for young people.
"The girls don't really have a lot of options," she said. "At Pick a Lily, we're pretty much it for ball gowns. Pagani in Masterton used to stock some, but not so much any more. Plus, young people don't want to spend any more than $200 on a dress."
Mrs Chasland said she and Mrs Waldron worry about the impact of online dress sites on local businesses such as theirs.
"It's one of those things you can't really avoid," she said. "We're aware we're competing against the online world, because there's girls out there who fit pretty much everything. But, whatever their size, they're still buying at risk."
Solway dressmaker Carolyn Henson said business has "dropped dramatically" for her since Wairarapa girls started buying ball gowns on the internet.
However, the number of clients asking for alterations to their online bargains has skyrocketed.
"I am altering more dresses this year than ever before," said Mrs Henson, owner and manager of Carolanz Dressmaking.
"Those dresses are not made to measure. You send your measurements, and they select something similar to your measurements. So chances are they will need major alterations."
Mrs Henson said she most often has to take in dresses that are "way too big", putting panels into dresses that are several sizes too small.
However, she said, some dresses simply cannot be altered.
"I had one girl who bought three dresses online to get the right one."
Upper Hutt-based dress designer Rasha Taylor said she receives "around five calls a week" from girls that have ended up with "a glorified rubbish sack" for a ball gown.
She said New Zealand has become a target for international online dress scammers - who peddle poorly-made replicas of designer wedding, evening and cocktail dresses using New Zealand domain names.
"Most people think that a site that ends in .com or .co.nz is legit, but that does not mean it is from New Zealand or the US," said Mrs Taylor, who has a large teen clientele from Wairarapa.
"Countless scam sites disguise themselves as Western businesses." She mentions one "New Zealand" site which is registered in Hong Kong. "They are an agent that has multiple factories they source gowns from. They are not quality controlled."
She said one of the biggest problems for New Zealanders buying from offshore sites is they are not covered by the Consumer Guarantees Act, and thus have no rights of return or refund.
Therefore, they undergo the costly process of having their gowns altered - a service Mrs Taylor does not offer. "Many of the online ball dress disasters I have seen would require so much work to fix that the customer is far better off buying a whole new dress," she said.
Currently, Mrs Taylor has a guide talking customers through the potential hazards of buying online, which can be found at www.rashataylor.co.nz/online-dresses/.
For more articles from this region, go to Wairarapa Times-Age