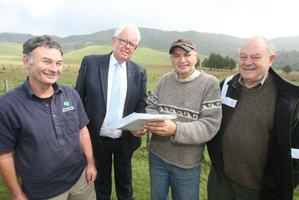 A Maori trust has gifted a final remnant of an ancient Wairarapa forest to the people of New Zealand and will partner the Crown as guardians of the land.
Geoff Perry, Makirikiri Aggregated Trust spokesman, said the group owned almost 450ha of farmland about 30km north of Masterton at the foot of Mt Munro and near the southern flank of the mountain, with more than 80ha of regenerated native forest which borders the Pukaha Mount Bruce National Wildlife Centre.
Mr Perry said the trust had been seeking to establish legal protection for the native forest for the past four years and had "out of frustration" sought help from Wairarapa MP John Hayes, who brokered the settlement of the reserve within four days.
Mr Hayes yesterday joined Mr Perry, Trevor Thompson, QE II Trust Wellington Wairarapa representative, and Garrick Murfitt, deputy chairman of the Pukaha Mount Bruce National Wildlife Centre Board, to hand over documents outlining the Nga Whenui Rahui reserve status on the land, Mr Perry said.
Nga Whenua Rahui is a contestable Crown fund aimed at helping with the voluntary protection of indigenous biodiversity on Maori land.
Mr Perry said the trust oversees property in the area comprising 10 Maori blocks of land and represents more than 1800 Wairarapa shareholders.
The group also proposes to establish 1500m of riparian fencing on waterways that thread through trust property and plans to build two chalets on the fringes of the forest block for use by trust shareholders and other interested parties. He said two kiwi released in to the wild under a Pukaha Mt Bruce programme had already settled in the forest, which the trust also planned to throw open to other birds from the wildlife reserve.
Mr Thompson said there had been kokako seen in the area in the 1940s and other native birds including rifleman and tom tits still inhabited the remnant of forest.
Mr Perry said the trust also was happy to extend Pukaha Mt Bruce walkways into the forest block and Mr Murfitt agreed a partnership centred on the land would be welcome between the trust and Pukaha Mt Bruce.
The trust also planned to establish an almost half-million dollar farming project on land neighbouring the forest block.
Other stakeholders and Maori-owned agricultural enterprises with long-term interests in the farm project include Rangitane o Wairarapa iwi authority, Federation of Maori Authorities, Maori Dairy Land Collective, Wairarapa Moana and Aohanga Incorporation.
The trust had also sought the return of a 2.6ha block of trust land on nearby Opaki-Kaipororo Rd that has been at the centre of an ownership wrangle since 2010 with Masterton District Council after first being seized by territorial authorities 125 years ago.