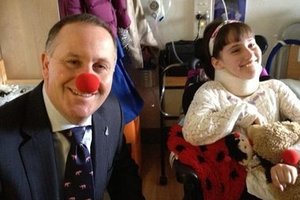 Grace Yeats has stolen the heart of Prime Minister John Key.
Mr Key met 11-year-old Grace, who he dubbed "Gracie button", during a private meeting at Wairarapa Hospital in Masterton on Thursday, her mother, Tracy Yeats, said yesterday.
The St Mary's schoolgirl had been left unable to talk or move after a throat infection in May last year developed into an extremely rare brain illness called acute disseminated encephalomyelitis or Adem.
She was the 13th person in the world to be diagnosed with the condition and was the most severely affected of all known cases, and last year had been flown to Starship Hospital in Auckland, where her mother kept a constant vigil by her bedside for nine months.
Grace had undergone several procedures during her time in Auckland, becoming the first girl in New Zealand to receive electrical brain implants for powerful spasms that had been wracking her body.
Mr Key, who on Thursday also had attended a luncheon at Wairarapa Trading Company and visited Rathkeale College, had set time aside especially to meet Grace after having missed visiting her while she was in Auckland, her mother said .
Mrs Yeats, who is a trained pediatric nurse, said Mr Key had arrived a quarter hour early for the visit and had also shared the time with herself and Grace's two brothers, Finn and Angus.
Mr Key told the family his pet name for Grace had been the same term of endearment he had used for son Max's girlfriend called Gracie, Mrs Yeats said.
"He was really lovely. Really nice with Grace. She gave him a red nose and he had her in a storm of laughter when he put it on. We gave him a wrist band as well, if he needed something more subtle."
Soon after Grace fell ill, a group of five Carterton families had launched the Grace Yeats Trust with the aim of raising funds to remodel the Yeats family home in readiness for her return.
A fundraiser auction last year had included strong bidding for a half-hour tea break with the Prime Minister, and Mrs Yeats was delighted Mr Key recalled the earlier gift of time he had made to Grace and her family.
"We are very, very thankful to him and all the people who have helped. I don't know what would have happened otherwise. The support has been pretty overwhelming. Just amazing."
She said Grace, who had been staying at Wairarapa Hospital since February, may be back at their modified Carterton home in about a month and is also taking hour-long lessons with a teacher three times a week.
The pair were fundraising for the Cure Kids charity while decked out in red noses yesterday outside Paper Plus in Queen St after Grace signalled her approval for the event with a wide smile, her mum said.
A Play For Grace fundraiser will be held on September 7 that will feature Parliamentary netball and rugby matches involving famous sports figures going head-to-head. The rugby match will be played at Carterton Rugby Club and the netball at the Colombo Rd netball courts.
For more articles from this region, go to Wairarapa Times-Age