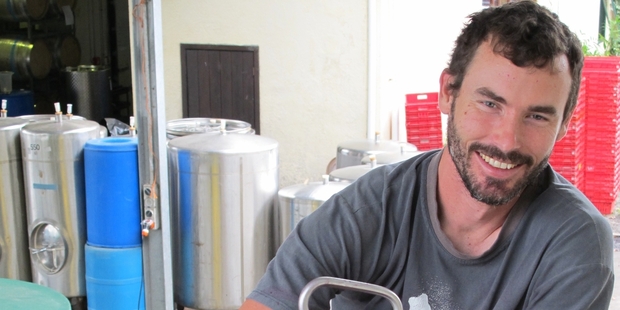 At the age of 33, Ben Byrne is a young winemaker based in the Far North who's just released his first wines under the Byrne Wine brand. Right now he's working at Marsden Estate in Kerikeri, up to his eyelids in ferments, but relieved that all the fruit has been harvested before less-than-lovely weather rolled in. He managed to sneak a few minutes during smoko to answer some questions.
DID YOU DO ANY FORMAL WINEMAKING TRAINING? Lincoln University Bachelor of Viticulture and Oenology 1998-2000.
WHAT WAS YOUR FAVOURITE THING ABOUT YOUR TIME STUDYING? I was relaxed about studying until the night before exams! I still got good marks, but an oenology degree is wasted on a kid straight out of school. I'd recommend anyone to work in the industry before studying. The best thing about studying at Lincoln was the lasting friendships with some really good people.
WHY DID YOU CHOOSE TO FOLLOW WINEMAKING AS A CAREER? I was quite academic at school but I always wanted to do something with a practical element as well.
Winemaking seemed like a great mix of science and creativity. The endless variables mean you never stop learning.
WHAT BOUGHT YOU TO NORTHLAND TO MAKE WINE? I'm a born and bred Northlander, I travelled around doing vintages, but my heart will always be in the North.
DO YOU OWN YOUR OWN VINEYARDS AND IF SO, WHAT DO YOU GROW? No, we are lucky enough to lease two vineyards, Rushbrook, owned by Geoff and Shelley de Young, and we share the production of the Fat Pig Vineyard, owned by Bruce and Sue Soland. Rushbrook has syrah, viognier, and chambourcin. Fat Pig has chardonnay, sauvignon blanc, and syrah. Leasing allows us to have full control of all the vineyard inputs. It also means a lot of vineyard work in the evenings and on weekends.
WHERE DO YOU MAKE YOUR WINES AND WHY? At Marsden Estate in Kerikeri. I work there as a winemaker. The owners Rod and Cindy MacIvor are great and hugely supportive of the Northland wine scene. Without their help I'd have either quit wine or moved back overseas long ago.
WHAT'S YOUR FAVOURITE PART OF THE WINEMAKING PROCESS? I get to do everything, from pruning to leaf plucking, racking barrels to filtering. The best part is when you open a bottle and it's even better than you thought.
WHAT'S YOUR FAVOURITE PIECE OF GEAR/EQUIPMENT YOU JUST CAN'T LIVE WITHOUT IN YOUR JOB? My favourite piece of gear is by far is my MP3 player. Good music is essential to get through those long days in the vines.
IS YOUR FAMILY INVOLVED IN MAKING YOUR WINE, OR IS IT A SOLO EFFORT? My partner Tereza is in charge of the admin side, not to mention being the fastest at leaf plucking and tying down. My son Clay is also a gun leaf plucker and a demon on the mower. Cody the dog chases the birds. We've had a lot of help, like family and friends in the vines over the Christmas holidays. I can't imagine trying to do it all on your own.
IS IT A SCARY THING TRYING TO GROW YOUR OWN WINE BRAND? It is, it's risky, and it's a big workload on top of regular jobs. But it's very satisfying and when people hand over their hard-earned cash for a bottle of our wine it's very humbling. We have tiny production, so we don't have the same commercial pressures of bigger operations, which means we can make the wine the way we want without dumbing it down just to shift cases. I've got no plans to take over the world, just to make a sustainable small business, selling wines we can be proud of.
HAVE YOU EVER THOUGHT TWICE ABOUT DOING THIS FOR A LIVING? Many times but, unfortunately, I've got the bug. I fall asleep thinking about wine, plus I don't know how to do anything else.
HAVE YOU EVER HAD ANY MAJOR STUFF-UPS? I sent magnum labels off to the bottling plant once for 750ml bottles. That was a major problem when they started turning up in shops all over Australia. I've seen some good ones in wineries over the years, sauvignon blanc mixed with zinfandel, additions made with the decimal point in the wrong place, and lots of wine disappearing down the drain. The human element in the cellar means there is always a mistake waiting to happen.
HAVE YOU EVER HAD A "WINE MOMENT" YOU'LL NEVER FORGET? Not really, the next one usually contradicts any epiphany. Winemaking is a pretty mysterious game. That's what makes it such a compelling industry to be involved in.
IN YOUR OPINION, WHAT IN THE NORTHLAND WINE SCENE IS EXCITING YOU RIGHT NOW? Rushbrook viognier, it's what occupies more than its fair share of my thoughts. It's so fickle and frustrating to grow, but the fruit has amazing concentration, great balance and the wild ferments are just starting to kick off as we speak. Northland syrah is getting better and better every year. Watch out for The Landing, Crowles Nest (which overlooks Crowles Bay in the Te Puna inlet), and Omata, all coastal vineyards that are consistently producing incredible fruit. Marsden's Black Rocks Chardonnay is an outstanding flagship wine for the region, too. Northland flies under the radar, but we're starting to produce more and more outstanding wine; 2013 was cool but very dry, near perfect, and 2014 has turned out possibly even better. Both were excellent seasons, so it's a very exciting place to be working right now.