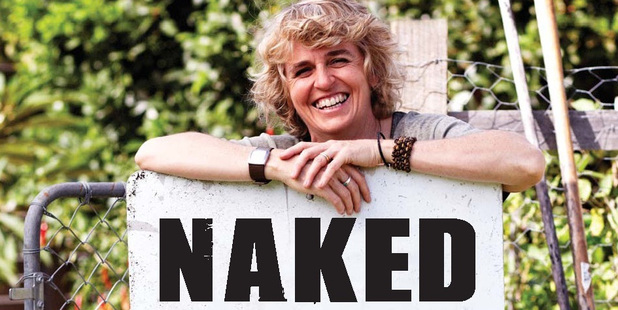 Jane Grover went from being a fine-food chef to mother of three - and passionate home cook of organic wholefoods.
She has just released a book called Naked Food, with the aim of encouraging people to cook and eat well, thus living a healthier life.
I asked Jane a few questions.
JUST WHAT IS NAKED FOOD? Naked Food is food undressed. The idea being to add as little as possible to your food, between the farmer/producer and your table.
Naked is food that is not compromised by additives, artificial flavourings and preservatives. I called the book Naked Food for two reasons, the one above and, from a marketing perspective, anything naked gets people's attention.
WHAT IS THE KEY TO ENJOYING NAKED FOOD? Eating and cooking fresh produce in season. Connecting with those who grow and produce our food. Making eating well a lifestyle, not a fad.
DOES THIS FOOD NEED TO BE ORGANIC? Absolutely not. What is important is that you are cooking and eating fresh produce. That you are creating habits of cooking from scratch, eating seasonally and knowing what is in the food you eat. Avoiding highly processed foods that offer none or very little nutrition for your body. Perhaps growing some of your own produce. These things should be first, eating organic or biodynamics is an added bonus.
I have many reasons for eating organic produce, firstly, absence of chemicals used in the production means a healthier food product and a healthy lifestyle for the farmer working to grow my food. My second reason is long-term health for the land and environment, meaning our land will be able to continue to provide a rich and capable environment for the sustained growing of good food. My third reason is that eating organically helps me to eat in season, to recognise the seasons and to eat produce when it is easiest to grow, in abundance to buy and at its lowest price.
WHERE IS THE BEST PLACE TO SOURCE FOOD FOR YOUR RECIPES? Try to source as much as possible direct from the growers and farmers - cutting out the middle man means it will cost you less. Farmers' markets and roadside stalls are a good place to start. Buy in season and buy local - when your food doesn't have to travel many food miles to reach your table, the cost is reduced for everybody. Most of all, know where your food is coming from and what is being done to it before it reaches your table, whether it is conventionally or organically produced. Most whole-foods stores, fresh-produce markets, health shops and the healthy aisle in your major supermarket will stock the ingredients used in Naked Food.
WHERE DID ALL THE RECIPES COME FROM? Ninety per cent of the recipes are mine that I have created and cooked for my family over the past five years. Of the remaining 10 per cent, some have been given to me by friends and then there is a handful from local chefs and whole-food cooks.
WHICH IS YOUR FAVOURITE RECIPE? That is a very difficult question, they truly are all good.
I love the breakfast chapter, as it is my favourite meal.
Breakfast recipe standouts for me would be the spelt and blueberry pancakes, such a hearty and wholesome combination; bruschetta with tomato and basil, as I love the combination of tomato and basil especially picked fresh from my garden; and the scrambled eggs with spinach, which is my most popular choice, utilising eggs from my hens and spinach from my garden - this is my favourite egg brekkie.
The fast-food chapter also stands out and means cooking a healthy meal, simply, in a short amount of time: perfect for a busy life.
Fast-food favourites are the recipes my family enjoys the most: sweet pumpkin and ginger soup, chicken san choy bau, beef and bean nachos with guacamole, lamb, mint and pine-nut burgers and chicken and sweetcorn soup. Everyone is happy when these are served.
WHAT INSPIRED YOU TO COOK AND EAT IN A WHOLE AND HEALTHY WAY? On my 40th birthday, I made a decision I wanted to live at least another 40 years with great health, so I began to educate myself on eating and cooking in a healthier way, creating a lifestyle that would mean a long, healthy life for myself, my husband and our children.
WHO WAS THE BIGGEST INFLUENCE IN YOUR DESIRE TO COOK? Initially it would have to have been my mum, as she was and still is a wonderful home cook. She spent hours in the kitchen and we always ate very well.
WHAT WERE YOU LIKE AT SCHOOL? Talkative, sport focused and often in trouble for not listening in class!
COOKING WASN'T YOUR FIRST CAREER OPTION WAS IT? My first option was to be a sports teacher, however I went off that idea after a while. I knew I needed to do something with my hands, as a head-based education was not something that held my attention.
I had always thought I'd like to develop cooking as a hobby, but in the end it became my career. I just love to cook, it is my happy place.
TELL US FIVE OF YOUR FAVOURITE SUPERFOODS. Garlic, ginger, tomatoes, blueberries, lentils and sweet potato ... could not stop at five ... eggs, yoghurt, spinach, fish.
WHAT IS THE BEST AND EASIEST WAY FOR SOMEONE TO CHANGE THEIR LIFESTYLE TO HEALTHY? Buy a copy of Naked Food. I wrote the book to help people do just that. The recipes are simple, healthy and delicious, the stories are inspiring and motivating, and the photography is enticing.
My No1 piece of advice would be don't try and do it all at once. Gradual change is sustained change.
Build a lifestyle of healthy eating over time, it will then become habit and preference, rather than a diet, a quick fad involving denying yourself in radical ways, which always ends in you failing, bingeing and feeling discouraged with your efforts.
TELL US THREE THINGS ABOUT YOURSELF THAT WOULD SURPRISE. I would have liked to be born an Italian, oh to have that rich food heritage.
I started surfing at 38 years of age and ride a 7 foot 6 inch longboard, when the weather and waves are good.
I have a dream to visit Antarctica one day.