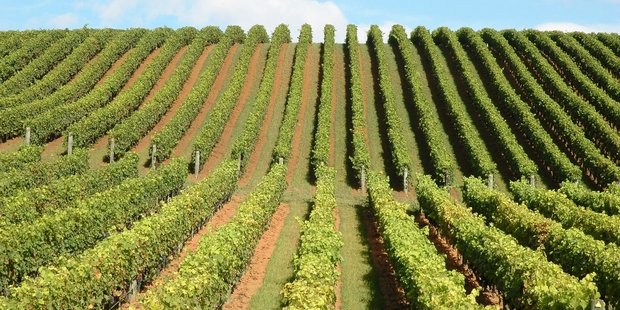 The observant among you may have noticed the increasing number of bottles on shop shelves that state they are "single vineyard" or from the "such-and-such block" or the "so-and-so vineyard".
Why do producers separate these wines from their "estate" offerings, and why are they more expensive?
Years ago, when I first became interested in wine, I'd assumed that every bottle of wine came from a place where someone had a vineyard out the front of their house and they made the wine in a shed.
It was an idyllic image that, the more I learned about the industry, didn't last. Commercial reality for many wine producers dictates that to source regular supplies of good quality fruit they must purchase fruit from vineyards around their region - sometimes even blend fruit from different parts of the country.
So, when you pick up a bottle of Marlborough sauvignon blanc for $15 in the supermarket, there's a good chance the fruit that's been used to craft the wine has come from vineyards scattered across the area.
That producer may have used grapes from the Renwick, Waihopai, Brancott or even Awatere sub-regions, for example. That Hawke's Bay chardonnay you love so much could contain fruit blended from Gimblett Gravels, Bridge Pa, the Tukituki Valley or Te Awanga.
This is a good thing because it helps create a recognisable regional style. But some producers may identify one single vineyard or possibly just a single section of one of their vineyards that has extra-special qualities.
A plot may produce exceptional grapes because of a specific combination of clonal material, soil types, microclimate and vineyard management, and therefore the producer decides to make a wine from that one patch of dirt.
The phrase "du jour", as used at wine conferences, means "sense of place"; something producers want their wines to reflect, and there's no better way to do this than by creating something from a single vineyard. No blending of fruit from other vineyards, just a pure, simple, unadulterated reflection of what can be achieved on just that one patch of land.
One variety that soaks up the intrinsic qualities of the soil it's grown in is pinot noir. The aromas, flavours and textures from one square of ground to another can be so eye-poppingly different, so exquisitely distinctive, they're a revelation. Yet, when those vineyards' fruit is blended, yes, they might be tasty, but those qualities can be diluted somewhat. So, if you are ever in the presence of extra coin and you thirst for something scrumptious, look for a single vineyard wine, close your eyes and taste the soul of the soil.
SIPS OF THE WEEK
Craggy Range Te Muna Road Martinborough Pinot Noir 2011 $42
At the beginning of the last decade, Craggy Range planted almost 100ha of grapes at Te Muna Rd just outside Martinborough. Much was made of their confidence in the potential of this site and, year after year, they prove they knew what they were talking about.
Te Muna Road vineyard spans two terraces leading down to Huangarua River and the top terrace, all stony, silty loam, is planted almost entirely in pinot noir. The 2011 pinot is gentle, juicy and plush, showing the poise of a ballerina and a smooth, warming, spicy character leading to vibrant freshness and solid length of flavour. Gorgeous.
www.craggyrange.com
Wither Hills Single Vineyard Benmorven Pinot Noir 2010 $54 1/2
At the foot of the Wither Hills range, this 13-year-old vineyard puts its roots down into practically 100 per cent clay soils, giving its pinot noir an attractive, dusty, pot pourri edge to its core of strawberry, plum and cherry.
The tannins have a slight chewiness that complements the ribbon of ripe spice and dried herb notes on the finish. It's a lovely wine with a bright future. www.witherhills.co.nz
Wither Hills Single Vineyard Taylor Pass Pinot Noir 2010 $54
Grown on a paddock formed from assorted loam, silt, clay and river gravels, this wine boasts a pronounced sweetness, red cherry, raspberry, liquorice and strawberry aromas and a whiff of roast game meat. In the mouth it's youthful and packed with fresh, pure, dark fruit. There's an elegant, smooth, exotically spicy layer that knits with a solid, masculine character. It's voluptuous, generous and has real presence and power. www.witherhills.co.nz
Valli Bannockburn Pinot Noir 2011 $65
Winemaker Grant Taylor is like the ingenious Gandalf of single vineyard versatility.
There's a solid, masculine character to the flavours in this Central Otago wine. I love the shiitake mushroom and tamarillo notes which merge with clinging tannins, soused cherry and deep, almost meaty, savoury characters.
Fresh, vibrant and fabulous. www.valliwine.com
Rippon Emma's Block Central Otago Pinot Noir 2010 $82
This is a deliciously elegant, mouthwatering, Wanaka-grown pinot, which boasts lovely lines and hints of blueberry and dried herbs. I love the gravity and density in this wine beside its lifted florals and delicate spices. Organically and biodynamically produced, there's a gamey complexity and quizzical spectrum of flavours that will reward cellaring over at least the next decade. www.rippon.co.nz or www.finewinedelivery.co.nz