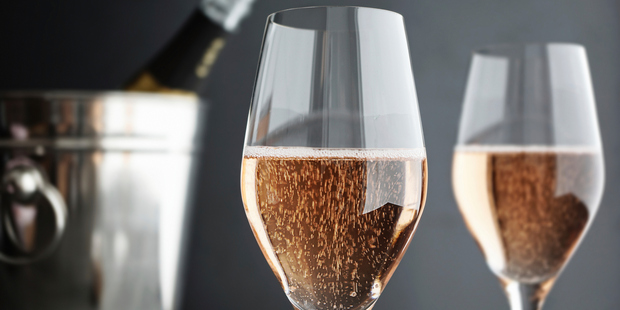 Some of the world's absolute top Champagnes happen to come in a sexy shade of salmon (Champagne Perrier Jouet Belle Epoch Rose, Taittinger Comtes de Champagne Rose, Billecart-Salmon Brut Rose and Armand de Brignac Ace of Spades Rose, for example). Yet it's this pinkish hue which, alas, demotes it to the "don't go there" list for many people. Okay, I mean men. All the men I surveyed on their reasons for this reaction said it was because they thought pink meant sweet, girly and a bit simple.
My poll was hardly of Colmar Brunton scope because I managed to ask only my husband, the high-viz guys installing ultra-fast broadband outside on the footpath and the boy bagging my groceries at New World - but, still, the results were telling.
These wines are traditionally made with the same three varieties used in classic white Champagne: pinot noir, pinot meuniere and chardonnay, while the colour is obtained by blending red wine into the white base before it goes through secondary ferment in the bottle (d'assemblage) or by letting the pinot grape juice remain in contact with its skins for a few hours after the crush to "bleed" red colour into the juice (saignee).
The upshot is that they're really pretty, but does that mean they're not serious wines? A sip of any of my choices below will show you how ridiculous that idea is. Rose has another advantage beyond cosmetic attraction. Through the addition of red wine, it has a fatter, fuller, more generous flavour than the usual brut Champagne or methode styles, which makes it a more versatile food partner.
The wines I've chosen this week represent some of the best examples from New Zealand and France at varied prices, and now's a great time to stock up before prices go nuts at Christmas.
Opening scene: I won't lie; there is an element of danger in these wines. ACC probably has an enormous file devoted to injuries from out-of-control corks so, to avoid taking out someone's eye, follow these instructions. First, ensure the bottle is not shaken beforehand. After you've taken off the foil cover, rest the palm of one hand on the cork as you loosen the wire cage with the other then firmly hold the cork and gently twist the slightly angled bottle, aiming the cork away from people, pets, and anything breakable. You'll feel the internal pressure begin to push the cork out. Try to keep the cork close to the opening of the bottle when it pops rather than letting it fly out. This will release the pressure without an eruption of wasted fizz.
Nautilus Estate Vintage Rose 2011 $49
Expert sparkling wine makers Nautilus Estate marked the 60th anniversary of NZ's national ballet company with the launch of its very first vintage rose. Crafted from 100 per cent pinot noir picked in 2011, this salmon-pink sparkler has delicate raspberry, cranberry, bagel aromas, a hint of hazelnut and a fresh, vibrant finish. Only 200 dozen bottles were produced and each comes in a ballet-themed gift box featuring the pointe shoes of dancer Antonia Hewitt. www.nautilusestate.com
Quartz Reef NV Rose $35
Crafted from 100 per cent pinot noir grown in certified organic, biodynamic vineyards in Bendigo, Central Otago; this has lovely, lifted, strawberry shortcake aromas, lively delicacy, freshness and finesse, with a creamy, lingering length of flavour. Delicious. www.quartzreef.co.nz
Akarua Central Otago Brut Rose $35
Incredibly pale, this 74 per cent pinot noir and 26 per cent chardonnay blend is ballet-shoe pink with a delicate bead and just the faintest hint of creamy raspberry on the nose - it's enticing for sure. In the mouth I love the deliciously balanced yeast autolysis characters and crisp, cleansing, seamless structure. Lovely. www.akarua.com
No 1 Family Estate NV Brut Rose $45
Rose-gold, this lovely fizz shows a delicate bead gently snaking to the surface. Clean, palate-purifying layers of flavour follow soft red cherry, raspberry, cashew and cookie dough aromas. It's tangy and tasty. www.no1familyestate.co.nz
Deutz Marlborough Cuvee Methode Traditionnelle Rose 2008 $38
The colour of this wine is exactly the same as the upper foil on the bottle, meaning it's bright rose-gold. I love the fresh, gentle notes of rising dough and red fruit on the nose and this 2008 vintage is lightly vibrant and pillowy, delicate and delicious.
Champagne Ayala Brut Rose Majeur NV $108
One of the original 26 Grand Marque Champagne houses, Ayala has created fine Champagne since 1860 in France's Ay subregion. This gorgeous rose is richly scented with rising dough, berry-infused biscuit and beautifully balanced acidity. Combine this with a hint of savoury, nutty complexity and you've got something absolutely sensational. www.negociants.co.nz
Champagne Bollinger Rose NV $150
This luxurious fizz shows a delicate copper-pink glint, enhanced by flossy foam and a sexy red berry and raspberry nose. I love the pillowy-fresh, seductive texture with its bright, personality-packed, mid-palate and cherry, red apple shortcake finish. www.negociants.co.nz
Chateau de Sours Reserve Sparkling Rose NV $33
This Bordeaux-based producer has created a rich, full-bodied fizz from cabernet sauvignon and merlot, and despite being scented with blackcurrant leaf, red rose and berry notes and having lovely, fruity layers - it's actually deliciously dry. www.vintners.co.nz
Brancott Estate Sparkling Rose $26
Pretty, pale pink and scented with red berries and raspberry lamington, yet in the mouth it has a fresh, tart essence of strawberry and cherry alongside a long, tangy finish.
Jacobs Creek Sparkling Rose $16
Sweet, gentle strawberryish aromas and flavours - there's an easy, plump, berry softness to this wine and it's great value for money.