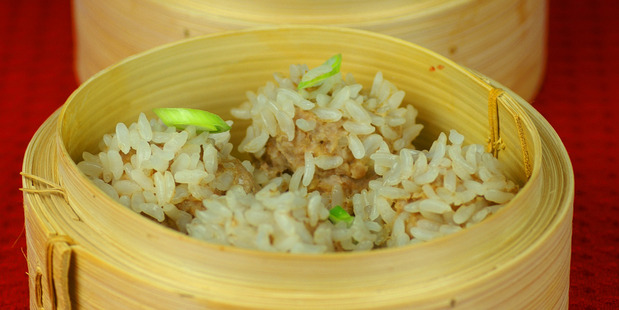 I have just returned from three-week stint in China and although I went to experience the history and culture, and enjoy the stunning scenery, I was also keen to discover if there had been any distinct changes to the cuisine.
More than 20 years ago I attended two Chinese cooking schools in Hong Kong. The hands-on involvement enhanced my culinary understanding and also influenced my cooking over the years.
In those days, the classes did not use potato. But now, just as Asian flavours have fused into our cooking, Western potatoes feature on Chinese menus. Potatoes were served julienned in stews and we also enjoyed them sauteed in chunks and, of course, there were the chips, an obvious influence of the international fast food chains now established in the major cities. (McDonald's has opened 249 stores in China this year alone.)
One of the most unusual dishes - Matang - was sweet potato (kumara) that had been cut into chunks, deep-fried then tossed in toffee. It was served during the meal with the usual 10 to 12 dishes packed on to the lazy Susan in the centre of the table.
Matang is a popular street food in winter.
I've perfected the recipe (see following) but if you would like to try a lower-calorie version, steam the kumara chunks until just tender and pat dry before caramelising.
Travelling the country, I was surprised to see paddy fields glowing with bright yellow rapeseed flowers.
Pressed rapeseed produces canola oil and this, our guide swore, is the best oil for Chinese cooking.
Multi-cropping is just one of the incentives the Chinese Government has promoted to encourage farmers back to their fields to improve self-sufficiency. That, and building farm houses for their families.
It was pomegranate season and I was amazed at the thousands of trees around the Xian area laden with fruit, each pomegranate (also called Chinese apple) wrapped in cloth-like paper to protect it from the birds.
I would have enjoyed visiting some of the top restaurants in the cities where Chinese chefs aspire to a more global presentation, but the traditional family meals served our group were perhaps more representative.
RECIPES
STEAMED PEARL BALLS
6 tbsp medium grain rice
500g lean minced pork
1 egg, lightly beaten
2 tsp soy sauce
1 tsp finely grated root ginger
1/4 cup diced canned water chestnuts
1 spring onion, diced.
Place the rice in a small bowl and cover with 1 cup of cold water. Soak for 2 hours. Drain and spread on a clean towel to dry.
Combine the pork, egg, soy sauce, root ginger, water chestnuts and spring onion in a bowl. Take heaped tablespoons of the mixture and roll into 3cm balls. Roll one ball at a time in the rice, pressing in lightly.
To cook, place a sheet of waxed or baking paper in a large steamer. Or use a large bamboo steamer that has been oiled on the base. Make a few holes in the paper. Arrange the pork balls on the paper. Cover and steam over boiling water for about 30 minutes.
Great served with a chilli dipping sauce. Serves 6-8 as part of a Chinese meal or 4 with stir-fried veges.
MATANG - CARAMELISED SWEET POTATO
1 large yellow kumara
Canola oil for deep frying
1/4 cup sugar
1 tsp black sesame seeds
Peel the kumara and cut into angled 3cm chunks by rolling the kumara as you cut it.
Heat enough oil for deep-frying in a wok or deep saucepan. Slowly add the kumara. Fry until golden on all sides. The kumara should be crisp on the outside and soft in the centre. You may need to reduce the heat as it cooks to prevent it burning.
Using a slotted spoon, remove the kumara to a paper towel to drain.
Place 1 tablespoon of canola oil in a medium-sized, non-stick frying pan. Swirl it around to cover the base. Heat gently. Pour in the sugar. Do not stir. Place over low heat until the sugar begins to melt. Move the pan around so the sugar caramelises evenly. Once golden, add the kumara. Turn the pieces until coated with the toffee. Lift out onto a sheet of baking paper. Sprinkle with sesame seeds. Enjoy while hot. Serves 4.
POACHED WONTONS
The name wonton means swallowing a cloud and poached wontons are thought to resemble clouds. Wonton wrappers are available from Asian food stores and some supermarkets.
20 x 9cm square wonton wrappers
Filling: 250g lean minced pork or chicken
2 tsp each: soy sauce, grated root ginger
1/2 tsp salt
1 tbsp finely chopped spring onion (green part)
Poaching liquid: 1 litre good chicken stock
2 spring onions, chopped
2 tsp grated root ginger
Sauce: 1 cup strained poaching liquid
1 small carrot, julienned
2 whole spring onions, diagonally sliced
1 tsp diced chilli
Few drops sesame oil
Thaw the wonton wrappers, if frozen.
Combine mince with the soy sauce, root ginger, salt and spring onion. To assemble the wontons, place a teaspoon of filling in the centre of each wrapper. Draw up the wonton edges and twist to seal. The final result should resemble a money bag or drawstring purse.
To cook, place the boiling stock and seasonings in a large saucepan. Cook the wontons in two batches for 4-5 minutes each batch. Lift out with a slotted spoon and place in a bowl with a little of the stock. Keep warm.
To prepare the sauce, combine all the ingredients and cook for 1 minute. Place the wontons in small bowls. Spoon a little sauce over the top. Serves 4-6.
SZECHUAN CHICKEN
Chicken: 300g skinned and boned chicken
2 tsp each: soy sauce, Chinese rice wine
1 tsp each: sesame oil, cornflour
Sauce: 2 tbsp dark soy sauce
1 tbsp Chinese rice wine
1 tsp sugar
Extras: 2-3 tbsp canola oil
1/2 cup raw peanuts
2 cloves garlic, sliced
3-4 small dried chillies, sliced lengthwise
1 tsp Szechuan peppercorns
2 spring onions, sliced
Cut the chicken into 2cm cubes. Combine with soy sauce, rice wine, sesame oil and cornflour. Marinate for about 25 minutes.
Meanwhile, combine the sauce ingredients in a small bowl. Heat 2 tablespoons of the canola oil in a wok. Fry the peanuts until golden. Remove with a slotted spoon and drain on a paper towel.
Add the chicken to the wok and stir-fry until it is white. Remove to one side.
Add a little more oil and heat.
Add the garlic and chillies and Szechuan peppercorns. Stir for 30 seconds, until they turn red.
Stir the sauce then add to the wok.
Return the chicken to the pan and heat through. Stir in the peanuts and spring onions. Serves 2 with rice and steamed green vegetables sprinkled with oyster sauce, or 4 as part of a Chinese meal.