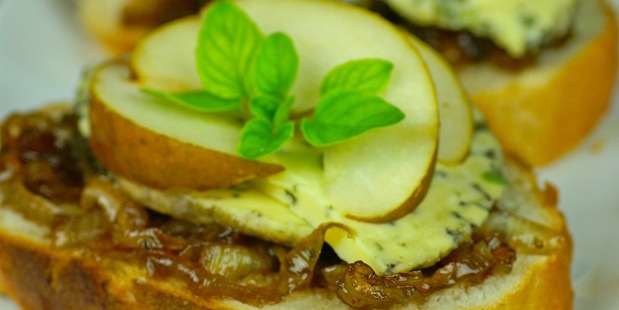 October is New Zealand cheese month and many retailers, restaurants and suppliers will be offering meet-the-cheesemaker events, farm open days, innovative recipes, tastings and specials. Take advantage. Check out the cheese lovers' website for your local activities.
New Zealand cheese is world-class and the varieties available are increasing.
For many years New Zealand's cheese manufacturing focus was on cheddar and closely related cheeses for local and international markets. But in the past 20 years we've seen the introduction of many European-influenced cheeses made in our own special style.
And - "oh deer" - how different can we get?
New on the scene is a firm cheese prepared from red deer's milk. Oamaru-based cheese company Whitestone has created small amounts of the cheese after it took part in a joint project conducted by Otago and Lincoln Universities.
I've tried it and it has definite flavour all of its own - a cross between a dry sheep's milk cheese with an after-taste of venison steak.
My mind boggles at the thought of milking a deer and apparently it isn't easy. This will, of course, make the cheese expensive and you might have to wait awhile until commercial quantities are available.
Until then, enjoy the increasing range of goat, sheep and buffalo milk cheeses.
Buffalo milk is a relatively new addition to New Zealand cheese-making. The milk is higher in calcium, magnesium and fat than cow's milk but has only about half the cholesterol. Several cheesemakers produce European-style buffalo milk mozzarella - excellent with tomatoes and basil, on pizzas and pastas - plus gouda and ricotta.
Goat's cheese has a distinct flavour that may take time to adapt to. For newcomers to goat's cheese, try combining it with a plain cream cheese as a spread for crostini.
Or try the goat's curd fromage blanc from cheesemaker Gruff Junction.
Sheep's milk cheeses, like buffalo milk and goat's milk cheeses, are alternatives for people allergic to cow's milk.
Sheep's milk feta is gaining in popularity but gouda, havarti blue and Jack are some of Wairarapa Kingsmeade's artisan cheeses worth enjoying.
Whatever the cheese, it makes great eating and discussion for enjoyable weekend grazing.
RECIPES
KICKBACK WITH KIKORANGI BRUSCHETTA
A hearty weekend snack using one of the country's most popular blue cheeses.
Onion marmalade:
2-3 tbsp rosemary infused canola oil (I used Laughing Frog)
2 large onions, finely sliced
2 tbsp brown sugar
salt and pepper to taste
2-4 tbsp balsamic vinegar
Bruschetta: 4 generous slices ciabatta bread
4-5 tbsp garlic-infused canola oil
125g Kikorangi blue cheese
2 small juicy pears
fresh herbs or watercress to garnish
To make the onion marmalade, heat the oil in a non-stick frying pan.
Add the onions and cook over low heat until softened.
Stir in the brown sugar and continue cooking and stirring until caramelised. Season. Stir in enough balsamic vinegar to suit your taste.
This can be prepared days in advance.
To prepare the bruschetta, preheat the oven to 180C. Brush both sides of each slice of ciabatta with the canola oil.
Bake on an oven tray for about 10 minutes, until golden on both sides.
Thinly slice the cheese into 4 pieces.
Quarter, core and slice the pears. Spread the toasted ciabatta with the onion jam. Top with the cheese, pears and herbs or watercress. Serves 4.
GREAT GOUDA BISCUITS
Tasty, Dutch-style savoury cookies to serve with coffee or drinks. Ensure the gouda is well matured or vintage. I used Meyer Vintage Gouda that won gold medals in the 2012 and 2013 NZ Champion of Cheese Awards.
200g vintage gouda, grated
100g butter (at room temperature), diced
1 cup (125g) plain flour
1/2 tsp baking powder
pinch finely ground black pepper
Place the cheese, butter, flour, baking powder and pepper in a processor.
Process until a ball of dough forms. Pat into a flat disc, wrap in plastic film and refrigerate for 30 minutes.
Preheat the oven to 200C. Line two baking trays with baking paper.
Sprinkle the bench with a little flour. Roll out the dough to about 3mm thickness.
Use a biscuit cutter to make the shape you want. I used a 4.5cm round cutter.
Place on the lined baking trays. Refrigerate for 10 minutes.
Bake for about 10 minutes, until golden.
Bake in batches if necessary and cool on a wire rack. Store in an airtight container. They can be frozen.
Makes about 60 biscuits.
FILO BASKETS WITH FETA & VEGETABLES
1 medium golden kumara, peeled and diced
3 sheets filo
25g butter, melted, or spray oil
170g goat or cow's milk feta cheese, crumbled
50g spinach leaves chopped
2 eggs, beaten
1/4 cup milk
freshly ground black pepper to taste
Preheat the oven to 180C. Place the kumara in a large microwave-proof bowl with 2 tbsp water. Cover and microwave, until tender. Cool.
Cut each sheet of filo in half crosswise then cut each half into quarters about 12cm x 12cm square. Lightly butter or spray each piece with oil, piling four squares one on top of the other.
Line a medium-sized six-hole muffin tray with the filo.
Combine the kumara with the other ingredients and spoon into the filo cases. Bake for about 20 minutes or until filling is set and pastry golden.
Makes 6 baskets suitable for nibbles with drinks. Or serve 2 per person with salad as a light lunch.
ROCKET AND MOZZARELLA SALAD
100g Mediterranean wild rocket
8 semi-sundried tomatoes, drained, patted dry and sliced
8 pitted black Kalamata olives
150g fresh mozzarella (buffalo preferably), sliced
shaved parmesan cheese to taste
1/4 cup balsamic vinaigrette
Place the rocket on a plate or in a bowl.
Top with the sundried tomatoes, olives, mozzarella and parmesan. Just before serving sprinkle with the dressing. Serves 4.