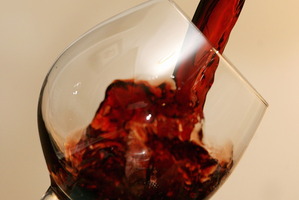 If you're organically minded then you'll be chuffed to know that New Zealand's first "green" distribution label has been launched recently.
Green Drop is the name of a company set up by the owner of organic vineyard Turanga Creek, Wayne Allen. He could see a niche in the market for a distribution label dedicated to representing the ballooning number of quality organic alcohol brands coming out of this country, along with organic brands from around the world.
Listing labels such as Nelson's Sunset Valley Vineyard, Wrights Vineyard from Gisborne, Artisan and Turanga Creek Wines from Auckland, Aurum from Central Otago, Sarastro and Naked Vine wines from Marlborough and Mike's Organic Beers from Taranaki, Green Drop has also secured exclusive importing rights to LA-based Green Bar Collective, which represents the world's largest portfolio of organic, hand-crafted spirits.
"People are starting to realise that organic means less chemicals and more flavours," says Loic Parola, Green Drop's "green" manager. "The demand is now at the point where a 'one-stop-shop' supplier for premium organic liquor labels is needed, and that's where Green Drop comes in."
Green Drop's products are categorised either as "fully organic", "in conversion to organic" or "sustainable".
And speaking of sustainable ...In a move intended to add some meat to our sustainability message, New Zealand's wine industry will be the first to test a new, national, environmental, economic and social performance Dashboard system.
This Dashboard project is designed to deliver tools that will provide farmers and growers with important information on the environmental, economic and social performance of their vineyards or farms. It's hoped this information will be used to improve results in areas such as energy use, nitrogen loss, carbon footprint and biodiversity maintenance.
"Sustainability is important to the New Zealand wine sector and is a key part of our brand story," says Philip Manson, NZ Winegrowers' general manager of sustainability. "It helps to produce great wines and provides assurance to our customers, and we wanted to be the first industry to test the potential of this world-leading project.
"Data from the Dashboard will add substance to our industry's sustainability credentials by providing measurable proofs. The days of saying, 'I'm green, believe me' are gone. You have to be able to prove that you are. The indicators are practical, but they are also scientifically defensible."
A pilot trial of the system is now under way in 20 vineyards and 10 wineries.
Te Mania Nelson Gewurztraminer 2012, $21
This is one heck of an exotic, seductive sip that will have you luxuriating in lychee, fig and date deliciousness. I can't believe this wine is so cheap for what it delivers. Beautifully balanced, spicy-sweet, rich, tangy and boasting lovely length of flavour, this is a fresh, crisp, satisfying wine. www.temania.co.nz
GH Mumm Cordon Rouge Brut 750ml, $65
As soon as you pour this wine you'll be hit with an aroma that I can only describe as like a cloud of croissant crumbs. In the mouth there are layers of berry brioche, with deliciously textural, elegant yeast autolysis notes and hints of strawberry shortcake. The acidity is the key here, combined with biscuit complexity and ultra-freshness on the finish. Available from good wine stores nationwide.
Carrick Bannockburn Chardonnay 2011, $27
Central Otago can produce sensational chardonnay, and I love the way the team at Carrick have managed to pack all sorts of grapefruity, peachy goodness into this bottle. It has a toasty punch on the palate, a succulent, grilled nectarine note, lovely acid lines and a clean, succulent finish. www.carrick.co.nz
Cloudy Bay Marlborough Pinot Noir 2011, $39
An absolutely cracking wine from a company that clearly thinks "compromise" is just a "c" word. Perfumed with spicy cherry, roasted game juices, flickers of rosemary and fresh fruitwood smoke. In the mouth it's plump and plush yet has lovely bracing acidity, loads of berry notes and oodles of plum and five-spice flavours. It has a marathon finish, a wine to sip and savour, and whether you're a pinot lover or a newbie you should own this wine. www.cloudybay.co.nz
Cloudy Bay Te Wahi Pinot Noir 2010, $80
If you thought Cloudy Bay was exclusively Marlborough, think again. Winemaker Tim Heath went south to handpick the best possible pinot from Central Otago's climes and the result is a beautifully crafted blend sourced from Bannockburn, Bendigo and Lowburn. On the nose expect wild strawberry, pickled plum and ultra-ripe black cherry and, in the mouth, it differs from their Marlborough version in that it's denser and more masculine, with definite power and concentration. It's pricey, but it's an extremely generous wine, with a long, satisfying finish and I think it's worth every cent. www.cloudybay.co.nz
Mount Riley Marlborough Riesling 2013, $17
Marlborough wine pioneer John Buchanan established Mount Riley wines back in 1992 and senior winemaker Matt Murphy has been on the Mount Riley team since 2008, when he married the company's general manager, who also happened to be John's daughter, Amy. He's been doing a superb job ever since and I think this wine represents fantastic value for money. Crunchy-sweet apple, lemon sorbet and tangy honeysuckle flavours burst out of the bottle. The wine has zippy acidity, a long, crisp finish and a superb price.
Renaissance 'Andy' Deuchars IPA 500ml, $9.60
Lovely aromas of malt pudding and citrus waft from the glass followed by a fabulous line of bitterness and spice notes on the palate. It's a satisfying, malt-forward new beer, which is rich, moreish, yet refreshing and finely tuned. www.renaissancebrewing.co.nz
For more articles from this region, go to Bay of Plenty Times