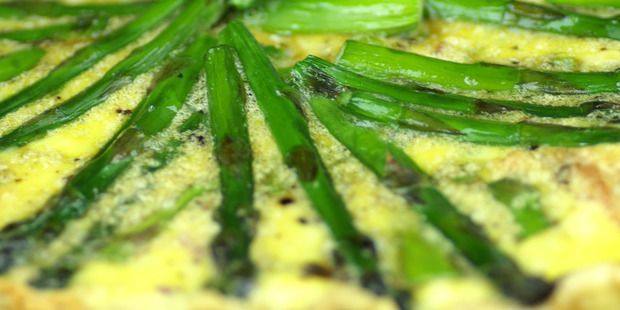 Asparagus is one of my favourite vegetables. It can be enjoyed steamed, boiled, roasted, grilled or, when finely sliced or shredded, it can be eaten raw.
One of its major advantages - apart from the flavour and its tempting appearance - is that one small raw spear of asparagus contains only three calories or 12.5 kilojoules. However, each spear is high in folic acid and is a good source of potassium, fibre and vitamins A, B6 and C.
From its first cultivation in ancient Greece, asparagus has played a key role in traditional folk medicine and has been used as a tonic and a sedative and also as a treatment for neuritis and rheumatism.
Asparagus makes a great combo with Asian "choy" - the Chinese name given to any leafy vegetable. There is some confusion over the names, as growers and retailers provide varying designations for the same vegetable.
These delights are listed under their most common names:
Chinese (Peking) cabbage (wong bok) is large and firm with long, pale green leaves and white stems. It is among the most widely available Asian vegetables; excellent in salads and can be quickly stir-fried.
Pak choy (bok choy) has long white stems and smooth green leaves. Because they can be a little tough they are best steamed or stir-fried.
Shanghai cabbage is baby pak choy (bok choy) - a smaller cabbage with thick, crisp, tender, juicy white stems and smooth green leaves. Steam whole or slice for stir-fries. Slice thinly and use raw in salads.
Choy sum (choi sum) - a flowering Chinese cabbage with long, thin green stems, small, light-green leaves and yellow flowers. It is great for stir-fries or steaming. It is often served drizzled with warm oyster-flavoured sauce. Choy sum also makes excellent salads. Use the flowers as a garnish.
RECIPES
LITTLE ASPARAGUS TART
To prepare asparagus for cooking, first remove any tough white ends. Bend the spears, one at a time, until they break at a natural point. Alternatively, trim with a knife. Remove any tough scales with a vegetable peeler.
1 sheet ready-rolled savoury short pastry
200g asparagus spears
2 rashers middle bacon, diced
2tbsp canola oil
2 large shallots, sliced
4 eggs, well beaten
Salt and pepper to taste
Set the oven to 200C. Lightly oil a 20cm tart pan.
Gently press thawed pastry into the tart pan and trim. Line with foil. Bake pastry for 15 minutes with baking beans or rice to keep it flat. Remove beans and foil and continue cooking for 5 minutes. Remove from oven.
Meanwhile, trim asparagus spears and cut into 7cm lengths from the tip. Chop remaining stems finely. Cover with boiling water in a bowl. Stand for 1 minute then drain and pat dry. Saute bacon in the oil until crisp. Add shallots and saute, until softened. Do not brown.
Beat the eggs and seasonings.
Place bacon and shallots in the cooked pastry shell.
Add asparagus pieces then place spears on top like the spokes of a wheel. Slowly pour in eggs.
Bake at 180C for about 30 minutes, until set.
Serves 3 as a light meal with salad or 2 as a main.
SCALLOPS WITH ASPARAGUS & CHOY SUM
Vinaigrette: 3 tbsp red wine vinegar
1/4 extra-virgin olive oil
1 tsp white sugar
Salt and pepper to taste
3 tbsp finely chopped mint
Scallops: 250g thin asparagus spears
4 tbsp olive oil
1 rasher bacon, diced
1 cup sliced choy sum or broccoli florets
12 scallops
Freshly ground salt and pepper to taste
25g butter, diced
To make the vinaigrette, pour vinegar into a medium-size bowl. Slowly whisk in olive oil. When incorporated, whisk in seasonings and sugar. Stir in the mint. To cook the vegetables, first trim asparagus, breaking off tough ends. Cut spears into 5mm long pieces.
Heat 2 tablespoons of the olive oil in a large frying pan. Add bacon and stir-fry for 1 minute. Add asparagus and choy sum and stir-fry until crisp-tender and bright green. Remove to a bowl. Add 2 tablespoons of the vinaigrette. To cook the scallops, first dry them with a paper towel. Season all over. Heat remaining oil in the pan. Add butter and when sizzling add scallops. Cook gently until golden on the bottom, about 2 minutes. Turn over and cook another 1-2 minutes, until just cooked. Place asparagus mixture on two or four plates. Top with scallops and drizzle with a little more vinaigrette. Season.
Serves 4 as an entree or 2 as a main.
CHOY WITH OYSTER SAUCE
I used Shanghai cabbage (pak choy) for this recipe.
6 baby Shanghai cabbages
1/2 tsp each: sesame oil, white sugar
1 tbsp each: oyster sauce, water
2 tsp garlic-infused canola oil (I used Laughing Frog)
Bring a large saucepan of water to the boil.
Add half the sesame oil. Drop Shanghai cabbages into the boiling water and blanch for 30 seconds. Remove from saucepan and drain well.
Place in a single layer across a long plate tucking leafy ends in neatly.
Heat remaining sesame oil, sugar, oyster sauce, water and canola oil together and drizzle over the vegetables. Serves 4.
CHICKEN, CHINESE CABBAGE & UDON NOODLE SOUP
Mirin is a low-alcohol, sweet rice wine.
250g skinned and boned chicken
4 cups good chicken stock
1 tbsp each: grated root ginger, soy sauce, mirin
1 tsp chilli paste
4 brown mushrooms, sliced
220g packet "cooked" udon noodles
4-5 cups thickly sliced Chinese cabbage
1 cup bean sprouts
Cut chicken into paper-thin slices.
Place stock, ginger, soy sauce, mirin and chilli paste in a large saucepan and bring to the boil. Simmer for 10 minutes. Add mushrooms. Simmer for 3-4 minutes.
Place noodles in boiling water briefly to heat through. Drain and place in four serving bowls.
Add Chinese cabbage and bean sprouts to the stock. Simmer until just tender. Add chicken and remove from heat. The hot stock will cook the meat. Ladle into bowls and serve. Serves 4.