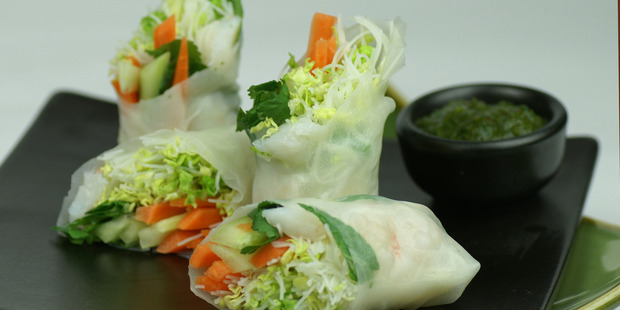 Diabetes is reaching epidemic proportions with 200,000 New Zealanders having Type 1 or Type 2, and 50 more diagnosed every day.
But discovering you are diabetic is not the end of the world - it is simply a matter of eating healthily, something we could all benefit from.
Diabetes is a disorder of the metabolism that prevents the body producing or properly using insulin which converts food into energy and controls blood glucose levels.
The glycaemic index (GI) was developed to rank foods based on their immediate effect on blood sugar levels.
The GI sugar (glucose) level is set at 100 and every food is ranked on a scale of nought to 100 according to its actual effect on blood glucose levels.
A low GI is below 55; a medium GI is 56-69; and a high GI is more than 70.
For people with diabetes the proper diet has three important benefits: it helps achieve and maintain good control of blood glucose levels; it helps regulate body weight; it helps prevent or delay any of the long-term problems diabetes can cause.
Take advantage of fibre power. Food with fibre help slow the rise in blood glucose after a meal. Look for the words "fibre rich" or similar on cereal, bread and cracker labels.
Go for wholefoods with grains, fruit, veges and legumes for meals and snacks.
Water and limited amounts of low-calorie, sugar-free beverages are great choices for thirsty diabetics whose blood glucose is at a normal level.
Exercising regularly when you have diabetes can help your cells use glucose (blood sugar) more efficiently.
Substitute fish for meat in some meals every week and enjoy protein with fewer calories and less fat, especially less saturated fat.
Keep your food servings in check. To start with, weigh and measure foods using measuring spoons and cups.
Low-fat milk and vegetable juice can help improve blood sugar control - just check the number of calories and carbohydrates they contain by looking at the nutrition information on the labels.
RECIPES
FRESH SPRING ROLLS
Mint sauce: 1 cup firmly packed mint leaves
2 spring onions, chopped
1 tsp chilli, diced
1 clove garlic, crushed
1/2 tsp mild honey
1/4 cup lemon juice
Spring rolls: 8 large raw prawns, shelled and deveined
20g fine vermicelli noodles
1/2 cup thinly shredded cabbage or crisp lettuce
4 large rice paper wrappers
1 small carrot, julienned
1/4 cup peeled, seeded and julienned cucumber
8 each: mint leaves, small sprigs coriander
To make the sauce, place all ingredients in a small food processor or use a hand blender. Mix until smooth. Place in a bowl to serve.
Poach prawns gently in boiling water until pink and cooked, about 1 minute. Drain and place in icy water to cool. Drain, then halve lengthwise.
Pour boiling water over noodles and soak for about 10 minutes, until softened. Drain and cool. Combine with cabbage.
Pour warm water into a frying pan or large dish. Soak a rice paper wrapper in the water until softened. Lift out and place on a clean board. Place 1/4 of noodle mixture on front side of the wrapper. Add carrot, cucumber, herbs and 4 prawn halves. Fold in the sides and roll up. Place on a platter and cover with damp paper towels.
Repeat to make 4 rolls. Cut rolls diagonally and place on individual plates. Serves 2 as a light meal.
APPLE & CRAISIN STRUDEL
Olive oil cooking spray
6 sheets filo pastry
4 apples, peeled, cored and finely sliced
1/4 cup craisins
1 tsp ground cinnamon
1/4 tsp ground nutmeg
1 tbsp brown sugar
Preheat oven to 190C. Spray a baking tray with oil.
Place 2 sheets of filo on the bench, one on top of the other. Spray lightly with oil. Place another 2 sheets on top and spray again. Repeat with remaining sheets.
Place apples and craisins evenly over pastry, keeping within 2cm of edges. Sprinkle with combined cinnamon, nutmeg and brown sugar. Fold in long edges and roll up.
Place on a baking tray, seam-side down. Spray with oil. Bake for 30 minutes. Serve warm.
Great served with a dash of low-fat yoghurt. Serves 4.
LOW-FAT MUSHROOM STROGANOFF
4 tbsp extra virgin olive oil
1 large onion, thinly sliced
2 tsp paprika
Pinch chilli powder
500g button mushrooms, sliced (white and brown)
1 cup vegetable stock
Freshly ground black pepper to taste
1/2 cup plain low-fat Greek yoghurt, mixed with 1 tbsp cornflour
Heat oil in a large frying pan. Add onion and saute until tender and lightly golden. Stir in paprika, chilli powder and mushrooms. Stir for about 2 minutes then slowly pour in stock. Simmer for about 10 minutes, stirring occasionally, until reduced.
Remove from heat and rest for about 2 minutes. Swirl in yoghurt.
Excellent topped with finely grated lemon rind and chopped parsley and served on rice or whole wheat pasta. Serves 4.
CREOLE RICE WITH PRAWNS
1 each: onion, garlic clove, chilli
1 tbsp olive oil
1 green capsicum, seeded and diced
2 large tomatoes, skinned and diced
1 cup brown rice
2 & 1/2 cups low-fat fish or chicken stock
200g each: cooked and shelled prawns, mango or pawpaw
Dice onion and saute with crushed garlic and diced chilli in oil for 2-3 minutes. Add green pepper and tomatoes. Cook for 2 minutes, then add rice and stock. Stir well. Cover and cook on low heat for 30-40 minutes, until rice has absorbed the stock. Add prawns and heat through.
Meanwhile, peel, seed and dice mango or pawpaw. Top rice mixture with fruit. Great served with a crisp green salad.Serves 3.