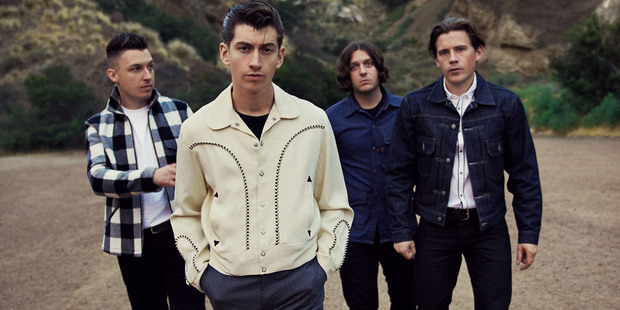 Arctic Monkeys. Photo / File
Since they exploded on to the music scene seven years ago in the same manner and with the same swagger as the Strokes had in 2001, Arctic Monkeys have pumped out their exciting, raw brand of indie rock - five studio albums in all seething with attitude. The Mercury Prize-nominated AM is their fifth consecutive British No 1 album - a feat never achieved by an independent act until now. AM shows they have the goods to go further. With nods to heavy metal, 60s psychaedelic pop, more than a little Damon Albarn and West Coast hip-hop, they've come a long way from the simplicity of I Bet You Look Good on the Dancefloor.
The slower tracks - No 1 Party Anthem, Mad Sounds and I Wanna Be Yours - are the true revelation, but there's no denying this is the face of modern rock. The fun Why'd You Only Call Me When You're High? continues the dark stomp of opening track and lead single Do I Wanna Know?, which is offset nicely by falsetto tag team vocals, while Alex Turner's quickfire lyrics on R U Mine? (another question!) over a deep and dirty riff demonstrate a band confident they already know the answer.
Arctic Monkeys, AM
Rating: 4.5 / 5