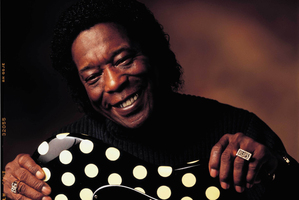 To use a rugby cliche, Buddy Guy's new release is a game of two halves. Rhythm & Blues is a two-CD set of high octane music, well produced, yet quite uneven. Rhythm is more rock oriented with questionable guest artists, while Blues is the real thing and, for me, vastly superior.
Having seen Buddy at his Chicago club, and followed his career from his early days mostly as a session guitarist for Chess Records, appearing on classic tracks by Muddy Waters, Howlin' Wolf and Koko Taylor, to his emergence as a notable, influential blues musician in his own right, I am happy to have paid for a double CD and consigned one of them to the bin. So duets with the likes of Keith Urban and Kid Rock don't do it for me, but the second CD Blues is incandescent Buddy Guy blues at its best.
Surprisingly, the lyricist for most tracks is Buddy's drummer and producer Tom Hambridge. The songs have been tailor-made to reflect Buddy's life and career, and, as a result sound fresh and real. Meet Me in Chicago, Too Damn Bad, Evil Twin, I Could Die Happy, All That Makes Me Happy is the Blues and I Came Up Hard all have authenticity and are delivered with passion and fire.
Add to that Buddy's stinging guitar solos with energy with histrionics and you get the picture.
Blues is a fine new release from the now 77-year-old, sounding like he's in the prime of his lengthy music career.
I'll let you make your own decision regarding the first CD Rhythm but, rest assured, the second CD is more than worth the money alone. If Blues was a single CD release we'd be talking 4 to 5 stars.
Buddy Guy
Rhythm & Blues
Rating: 3 / 5