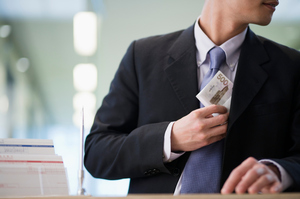 Scams can look so credible:
A few years ago, a local bank manager, Tim, was made redundant in a restructure. He packed up his family and returned to his home in a coastal North Island city.
A few months later Jimmy, a local, told me Tim was promoting a great investment that would make 4 per cent a month. Jimmy asked me what I thought.
Now 4 per cent a month is 48 per cent a year so was clearly super high risk and suspect. Jimmy said no, Tim said it is guaranteed by big global banks and the return comes from trading money overnight among them - even more suspect.
I told Jimmy not to touch it as no bank-guaranteed scheme I had ever seen would pay more than 4 or 5 per cent a year but certainly not 48 per cent a year. I suggested Jimmy give it a very wide berth.
A few days later Tim called me and was quite indignant that I had told Jimmy to give his hot new investment offer a wide berth.
Alan: I have never heard of a bank-guaranteed scheme that pays more than 4 to 5 per cent a year let alone 48 per cent a year!
Tim: It does and is guaranteed by big global banks too.
Alan: Which global banks?
Tim: Big ones we don't hear about in New Zealand.
Alan: What are their names?
Tim: Very big but not known in New Zealand.
No answer there so I tried another tack.
Alan: Who is the manager of the scheme, what is his name, where is he based, and what are his credentials?
Tim: They don't like to be too public or everyone would want in.
No answer again ...
Alan: Where is their head office?
Tim: There is one in Australia.
Alan: Just where in Australia ?
Tim: Well it's not really an office, it's just a shell.
You gotta be joking, I thought, but I kept trying.
Alan: Most funds have an independent trustee, so who is it? eg perpetual trustees, trustees' executors?
Tim: Not sure.
Alan: All funds I deal with have an office, a trustee, the manager's credentials are available online, and they have investment statements. Did this hot offer even have an investment statement?
Tim (becoming irritable): Look, Alan, this comes through an old, well-known law firm and they put their money in too.
Alan: Okay, Tim, just give me the name of just one of the managers and his credentials.
Tim: Got another call, gotta go, click.
Several months later, I heard that investors could not get their money back and the authorities were investigating.
Credible:
They got investors' money from our town because Tim was credible - after all, he used to be our local bank manager, and an old law firm was involved too, adding more credibility.
In fact, Tim and the law firm who were fronting the scheme/scam probably believed it was okay, and because they were credible, investors were duped.
Funds we use:
We favour asset class funds run by companies such as Dimensional Fund Advisers. They were set up in 1982 and today look after US$200 billion ($242 billion).
They issue a prospectus which clearly states who they are, where they put investors' money, the trustee company they appointed, the fees, the risks, and their fund managers' credentials.
One of their founders, Eugene Fama, just won a Nobel Prize.
I have visited their Sydney offices, met the fund managers, and observed them working.
Steve Garth and Graham Lemmon are two of their top people, and both have a PhD in finance. They have been there for over 10 years, and I often talk to them at conferences.
And they don't "promise" anything ridiculous like 48 per cent per annum.
A far cry from Tim and his faceless non-existent funds.
People are still being scammed. Don't be one of them!
This is a true story but names and places have been changed.
Alan Clarke is author of Retire Richer - A Practical Guide For Everyone Aged 25 to 85. He blogs on www.investandretire.co.nz and is an authorised financial adviser whose disclosure statement is available on request and free of charge.