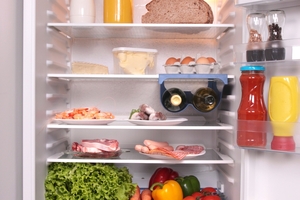 Kiwis are throwing away perfectly good food from their fridges at alarming rates, new research suggests, wasting money and edible resources.
Bad habit
Food waste - it's a big problem.
The latest Canstar Refrigerator Satisfaction survey turned up a surprising result: more than a third of respondents admitted chucking out food from the fridge every week.
The survey questioned 704 New Zealanders from across the country who had bought a new refrigerator in the last three years.
The biggest food-waste offenders were Generation Y, or those aged under 30, followed by Generation X and Baby Boomers.
Men and women had equally bad food wastage habits.
Canstar general manager Derek Bonnar says every item thrown from the fridge that could have been used is not only a waste of food, it is a waste of money.
"Minimising food waste through the creative use of ingredients and making the most of leftovers means that you'll get maximum bang for your food budget buck."
The results come amid international reports of food wastage - with a recent United Nations report revealing more than 1.3 billion tonnes of food is wasted every year, mostly because of poor harvesting techniques in developing countries and careless consumer behaviour in high-income areas.
A further report by the United Kingdom-based Institution of Mechanical Engineers found 30 to 50 per cent of food in UK homes is thrown away before it hits the table, often at the direction of conservative "use-by" labelling.
Don't throw it out
In New Zealand, we turn our noses up at ageing fruit and veges, leftovers and food past the best-before date, says food writer and presenter Sophie Gray, of Destitute Gourmet.
"People often buy fresh produce because they know they should, but they haven't necessarily planned how they're going to use it.
"Some people are really, really funny about leftovers - it's very First World problematic."
Many consumers confess to throwing away leftovers instead of using them for a subsequent meal, she says.
Fans on her Facebook page have posted comments such as: "My husband just won't eat leftovers, it makes him feel like a poor person."
"Whereas I'm going, 'Yum, casserole for lunch, what a luxury."'
Consumers are also confused by the difference between "best-before" and "use-by" dates.
"They'll chuck something out because it's reached its best before rather than even determining if something is still usable."
The "hysteria" around food hygiene is getting worse, as more manufacturers guess a product's shelf life instead of paying to have it tested, and then label it with a conservative use-by date, she adds.
Money saving tips
"One of the best and easiest ways to reduce your waste is to plan your meals around what you've already got," Gray says.
"If you've got a leek and a celery that's going soggy and a couple of carrots, perhaps you should be thinking about making minestrone rather than nachos."
This could save families a significant amount of money.
On her website, Gray lists a number of food-related cash saving tips, including:
* Make a menu plan.
* Only shop once a week.
* Use cash instead of a bank card to get groceries.
* Try not to buy anything you can realistically make yourself.
* Eat produce that's in season.
For more advice visit www.destitutegourmet.com, or go to the Destitute Gourmet Facebook page.