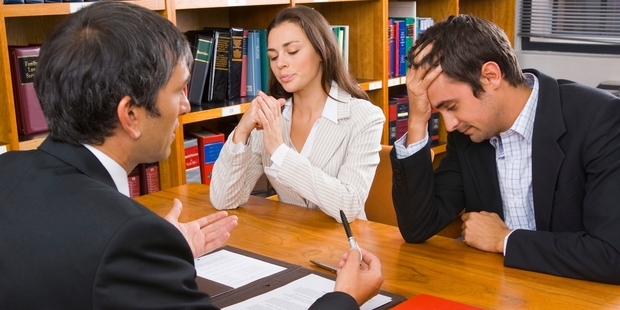 Trusts allow people to protect their assets - even from their own family in the aftermath
of a messy relationship breakup. But the Law Commission is calling for legal changes that would stop people swindling their partners and make sure ex-lovers get what's rightfully theirs. Cassandra Mason reports.
What is proposed?
Auckland socialite Sally Ridge and her former partner Adam Parore's public court battle has thrown trust arrangements into the spotlight.
The court heard how Ridge's lack of attention to legal details led her to believe she owned half a business with her former partner. However, the company was actually held in his family trust, which she was a beneficiary of.
The Law Commission has recommended a long overdue tidy-up of "convoluted" laws governing trusts, which hundreds of thousands of people use to hold assets such as family homes, businesses and land.
"Not only are some provisions unnecessarily complex and difficult to understand, but some are simply unreadable," the Commission's report says.
While the Commission is pushing for an entirely new Trust Act, the report also makes recommendations around tackling the use of trusts to shield property after marriages, civil unions and defacto relationships break down.
It wants an amendment to the Property (Relationships) Act to give courts the power to order that cash or property be paid out of a trust to compensate a disadvantaged ex-spouse or partner.
At present, courts can make orders for payments only from trust income rather than the assets themselves.
What would the changes mean?
Some law experts have warned the changes could send the number of legal disputes through the roof. Others say they undermine the core principles of trust law. But if implemented, the changes would see fewer "defeated partners" cheated out of relationship property that rightfully belongs to them.
The reforms would also aim to crack down on people using trusts to shelter income from tax, which the 2007 Tax Working Group estimated cost Inland Revenue about $300 million a year.
Partners stiffed by trusts
Consumer New Zealand says people have increasingly used trusts to avoid sharing assets with a partner.
It highlights the following case study that went through the courts.
"The male partner had a house in trust when the relationship started," a report on the cost of separation found.
"His trust then bought rental properties by borrowing against property it already owned - the couple didn't use their own money to buy the properties. When the break-up happened, his partner was denied a share of the rental properties bought during the relationship."
How to protect yourself
People should "keep their eyes open" and set up formal relationship-property agreements that set out who owns which assets, Consumer New Zealand advises.
Both parties should get independent legal advice before a formal agreement is finalised.
Auckland District Law Society spokesman and trust lawyer Lewis Grant says the proposed changes would give the courts broader compensation powers to prevent one partner taking advantage of the other.
The most common problem among couples is partners moving relationship property into trusts without the other's knowledge, Grant says.
"The really smart husband who's got really good legal advice sets up a trust, moves the shares and the company and everything into this trust and then walks away from the relationship."
Formal relationship-property agreements do work, but getting them signed can be tricky.
"The number of these I've prepared over the years - either as pre-nups or even just between husband and wife - that never get signed because it's, 'Don't you love me, you're setting us up for a fall'," says Grant.
A good understanding of trusts will help keep assets safe, he says.