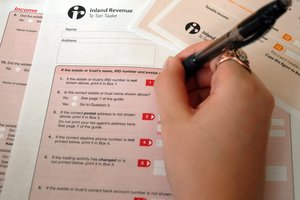 Over the years I've had clients who were investigated by the Inland Revenue Department following anonymous tip-offs.
Some of them were false alerts, and some cases could be chalked up to disgruntled ex-employees seeking revenge on their former employer.
An investigation can start in a number of other ways. Industries that deal heavily in cash, such as taxis or bars, will be on the IRD's radar.
Property sellers have been susceptible to rumours about selling houses tax free because of no capital gains tax - not only are there those who have missed the point of "intention to sell" , which is proven by notes on the bank's files, but some have tried to sell properties through family members and other entities to avoid paying tax.
The IRD has dedicated $6.65 million a year to enforce property tax compliance, to return $45 million in tax.
If your name has come up in an investigation or as part of a transaction that's getting some attention, you might also get a nudge. International dealings and frequent flying overseas might also get a flag next to your name.
This is now much more common with Kiwis seeking jobs overseas, and with information-sharing between the Customs Service and the IRD.
Your compliance history is also something the IRD will look through, for example if you haven't paid GST or tax returns on time, or appear to have significant wealth while not paying the right tax amount.
If you are selected for an audit and you know there's something wrong, you have an opportunity to fess up and make a disclosure. This can reduce the amount of penalties charged on any tax difference found during the audit.
Voluntary disclosures have saved taxpayers about $80 million in penalties over a year.
All audits are different - I've been involved in some that have taken years and some that have been settled with an email and evidence of a specific transaction.
The IRD don't have a dedicated swat team to extract your records if you're not complying but they do have powers to search any property at any time, and can remove records relevant to tax issues.
If the property is a dwelling, the IRD will need a court warrant and can obtain this without notice of the taxpayer.
If your premises is raided, it's important to contact a solicitor.
Audits can be nerve-wracking, and if your record-keeping is in bad shape expect questions from the IRD and difficulty proving your point.
Jeremy Tauri is an associate at Plus Chartered Accountants.