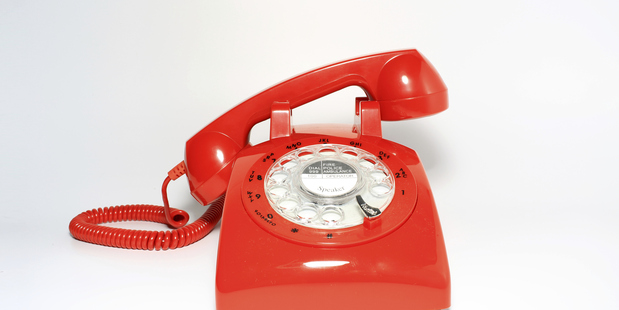 Say farewell to the humble landline telephone - it could be extinct, or nearly extinct, in New Zealand by the year 2020.
That's when the Kiwi love affair with smartphones could reach a new level. The home phone is already going the way of previous telecommunications standards like the bakelite phone (made out of the first synthetic plastic), the party line and telephone booths.
Already there are more mobile phones in New Zealand than people - 4.77 million of them, according to the Commerce Commission's Annual Telecommunications Monitoring Report. In the US and Europe, more than a third of people don't have landlines.
Calling minutes from landlines have fallen by over 20 per cent in the last five years while calling minutes from mobiles have risen by almost 40 per cent. Consumers are also getting more for their money. Between 2006 and 2012, the average household spend on mobiles rose only slightly from $28 to $29 - yet calling minutes rose 20 per cent and data use over 100 per cent, says the report.
Convenience is playing a key role in the next major shift in the communications revolution. The traditional landline phone had an important place in home and business. Every self-respecting office had a phone at each desk and every home had one phone that every family member had to share - like it or not.
The sight of a teenager talking for hours on the phone, playing idly with the phone coil while preventing anyone else from making a call, was familiar. Now, as far as young people are concerned, the cord is forever cut; phones hooked to a socket on the wall are dinosaurs. Teenagers are far more likely to video call where they can see each other clearly or instant message using smartphones.
This shift in consumer behaviour is forcing businesses to rethink the way they serve their customers, requiring ever-increasing speed and innovation to keep up with the demands of their customers.
"Businesses want seamless access to their systems, their processes and their people wherever and whenever they need it. To do that requires fibre, cloud, mobile and smart devices, all working together. Their customers expect them to be available, anytime, anywhere. To keep ahead in the business world, you need to be ready," says Vodafone's head of enterprise marketing, Julia Jack.
In business, with 4G offering faster broadband than most landlines and the ability to assign a fixed number onto a mobile phone, many companies have no need for a landline phone.
Like leading real estate company Bayleys. At first, some agents questioned why they had to give up their landlines - the source of many of their sales inquiries. It was also important for agents to have a local phone number linked to their branch. But, with recent advances, Bayleys sales personnel still have local numbers and all the functionality of their desk phone - but on a mobile, with reduced cost.
Bayleys managing director Mike Bayley says the flexibility of going totally mobile enabled all sales personnel to be contactable 24/7 - whether they were in the office working on property campaigns or out networking with vendors or potential buyers.
" Having a local number that automatically rings on the agents' mobile phones means that our customers can get hold of agents at all times, for no more than the cost of a local call. That equates to better customer service and better customer relations," Mr Bayley says.
"As a marketing focused company, we are always looking at new avenues for staying ahead of the competition - and the solution delivered by Vodafone has certainly enabled us to deliver on that.
"Real estate salespeople don't secure listings or network with buyers by sitting at a desk. It's all about being visible and active in the community pertinent to the agent's relevant market - whether that's residential, commercial and industrial, rural, or in business sales."
Businesses are removing duplication, stripping out cost from old systems and improving productivity. As employees seek the same consumer experience they get with their personal mobile and computing devices at work, there is an increase in trends such as bring-your-own-device (BYOD).
The smartphone - essentially an all-in-one computing device - is driving this change. Functionality is improving and internet access through Wi-Fi, 3G, and 4G networks is enabling higher data downloads and faster speeds.
Yet the cord to the home isn't completely cut. Fixed line broadband connections have continued to grow steadily, almost tripling since 2006, according to the Commerce Commission report. This is expected to continue with the rollout of ultra-fast broadband
Broadband connection in the home can come without a landline. Vodafone's VDSL Naked Broadband permits broadband without a home phone at speeds three times faster than standard broadband.
In the next decade, the old copper wire technology carrying voice communications could be obsolete and turned off as fibre-optic cables carry all our messages. Some people will still choose to have landline phones at home - and that's easily done with voice just an add-on to the fixed-line technology wiring up homes so that computers, TVs, cable services, phones and other appliances work better and faster.
If the story of the internet so far has been about connecting people, the next chapter will also
be about connecting things: enabling machines to talk to each other, exchanging data and coordinating activity without direct human intervention. But the trend is clear: the future is already here.