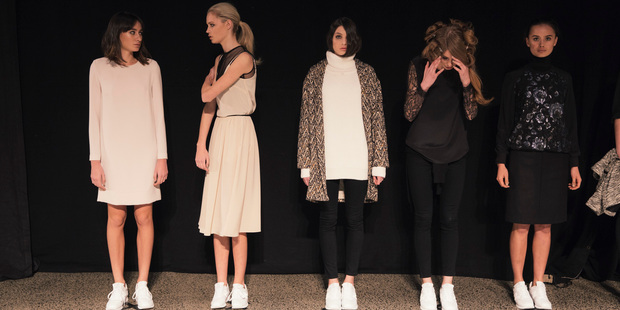 Yesterday was calm. Today was not. It started off pretty well with a little breakfast, coffee and Watercolours at Huffer's 'aim' presentation, followed by a show featuring both Lucy McIntosh and Pardon My French. Then things got a little hairy.
Security tightened up, and knuckled down in preparation for the NZ Weddings show, which had what we would say was the tightest backstage list (it didn't include us). We thought it might go back to smooth sailing after all the brides and grooms were out of the building, but we'd hit a new obstacle: the first big show delay at New Zealand Fashion Week 2014.
Andrea Moore had hit a technical difficulty which pushed back the schedule a good 45 minutes. By the time it got around to seating Juliette Hogan's runway offering - scheduled for 7.30pm, we were sitting in anticipation at around 8.30pm. A long time to wait for some restless models. The wait was even longer for Zambesi's girls and boys - the fashion heavy-hitters presenting their collection past our bedtimes at 10pm.
Luckily their show was worth waiting for - smooth, polished with great production and casting. Check out the pictures for yourself. And with that, it's time for this tired blogger to go to bed. Over and out.