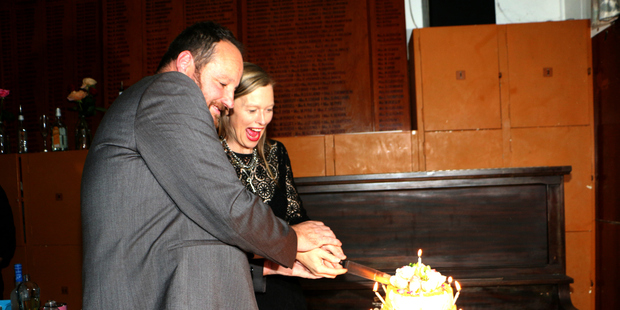 Venue
The Grey Lynn Bowling Club, decorated with bunting made from old Kate Sylvester prints, a disco ball, confetti machine and a very fashionable take on the 21st photo board: a screen with 21 years of archival footage.


Guests
Kate explained she wanted a party to "celebrate our beautiful community", inviting fashion insiders, friends and the people behind the scenes of the brand. Well-known faces included Samantha Hayes, Colin Mathura-Jeffree, Siobhan Marshall, Antonia Prebble and David Dallas, while friends from behind the scenes included writer Stacy Gregg (who did the guest list for the opening of Kate's first store), Rachael Churchward and Grant Fell of 90s magazine Planet, Lucy and Stephen Marr, and Roger Wall from Wall Fabrics.
Fellow designers including Dayne Johnston from Zambesi, Murray Crane, Marc Moore and Dan Gosling from Stolen Girlfriends Club, Steve Dunstan from Huffer and Workshop's Chris Cherry (one of the first stockists of the Kate Sylvester brand) came to celebrate the milestone, while models who have worked with Kate over the years - Penny Pickard (who got special mention in Kate's speech), Ngahuia Williams, Sophie Blazey, Michael Whittaker and Vinnie Woolston - took over the dance floor.


Dress code
Kate Sylvester through the years, with guests pulling out favourite purchases from past collections.
Stylist Rachel Morton wore the red cape from the Wolf collection, while Viva's Amanda Linnell wore a pleated dress from Diamond Dogs, and Zoe Walker, a Kate Sylvester boutonniere from This Charming Man. A lucky few wore pieces from the upcoming spring/summer collection: Petra Bagust in the antique ivory beaded "Eleanor" dress, and founder of The Centre, Rebecca Wadey (who helped organise the party), in a dusty rose leatherette dress.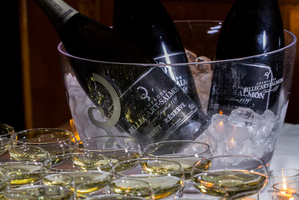 A toast!
Guests were greeted with coupe glasses filled with Billecart Salmon champagne, and later treated to Huia wine, Hallertau beer and Antipodes water. Then there were the Grey Goose Le Fizz for Kate Sylvester cocktails, and a stylish take on the Kiwi 21st classic: 42 Below Passionate Cosmopolitan in mini yard glasses.
Make your own at home with these recipes:
Grey Goose Le Fizz for Kate Sylvester
• Ingredients
30ml Grey Goose Original
15ml St-Germain Elderflower Liqueur
15ml pressed lime juice
75ml chilled soda

• Recipe
1. Cut lime across the centre
2. Press 15 ml lime juice (measure this using jigger) into shaker
3. Add 15ml St-Germain Elderflower Liqueur
4. Add 30ml Grey Goose
5. Add cubed ice to shaker
6. Shake well and double strain into champagne flute
7. Top with chilled soda water (75ml). Serve


42 Below Passionate Cosmopolitan
• Ingredients
30ml 42 Below Passion
15ml fresh lime juice
15ml cranberry juice
15ml Triple Sec
Orange zest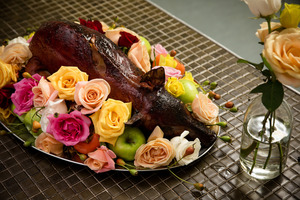 Menu
• A four-tier pear and pistachio cake with dark chocolate ganache, by The Caker.
• A roast suckling pig, decorated with flowers and fruit by the designer herself. "She's too pretty to eat," Kate joked earlier in the evening, before it was carved up to make pulled pork sliders.
Music
Kate's known for her love of rock'n' roll, with three bands playing throughout the night - her sons played a set with their band, to cheers from the assembled crowd, while a covers band made up of ex-bFM rockers played everything from I Wanna Be Sedated by The Ramones (Kate's favourite) to West Coast by Lana del Rey.
Later still, Auckland band Beach Pig played; with the rest of the music made up of past fashion show tracks.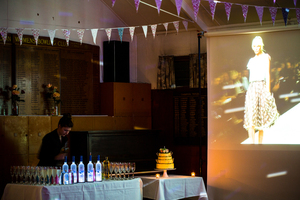 Surprise!
A burlesque dancer was a surprise organised by Kate Sylvester's partner in life and business, Wayne Conway: Leda Petit jumped out of a "cake" wearing pieces from the Kate Sylvester archive - the famous red cape from Wolf, a tutu from the Fight collection, camisole from Art Groupie - quickly discarded.


Gifts
Guests were given a Kate Sylvester 21st key necklace as a thank you.


See who was there: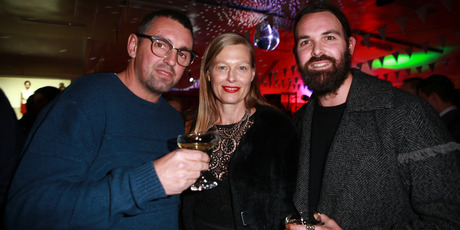 - VIVA