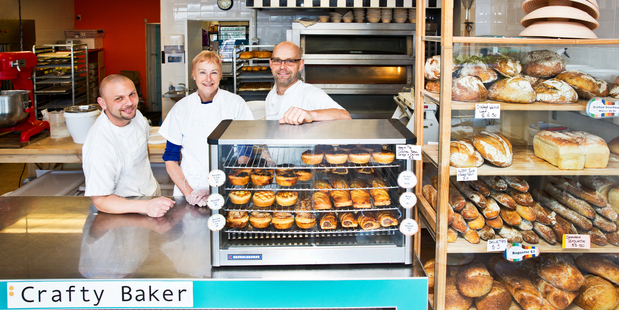 GOOD BUNS
Get thee to Glen Eden to try the newest bakery, Crafty Baker (above). A family business, baker Lee Morgan (left) and wife Calli are joined by Calli's parents, Christine and Pete Hope (centre and left) in the shop. Morgan has baked since he was 14, and prides himself on using organic products, natural food colourings and working towards a zero-waste business. The meat is from Clarks Organic Butchery up the road, and they make their own organic butter, allowing their house speciality, the croissants, to sing. The pain au chocolat was our pick. It had the perfect chocolate-to-pastry ratio.
• 115 West Coast Rd, Glen Eden, craftybaker.co.nz.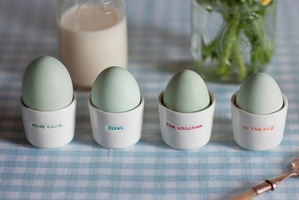 LOVE IT
We're stocking up on the cute range of typewritten cups, bowls, jugs and egg cups (pictured, $32 for set) from London ceramicist Keith Brymer Jones. New to our shores, available at Tessuti, Hedgerow, Allium, Smith & Caughey's and more.


SUNDAY ROAST
This Sunday let the team at Ostro cook for you.
Their new Sunday Roast includes delicious sounding options like pork belly, a half chicken and prime steer Scotch. Available midday-late, alongside jazz and Bloody Marys.


MENU PICKS
What we're loving around town right now ...
• A quick porridge from White's & Co - it's our favourite new pre-work breakfast.
• The mandarin jelly and pineapple tapioca at the Blue Breeze Inn - sweet, cooling and refreshing.
• For healthy tasting decadence, the chocolate and passionfruit layer cake at Monterey in Grey Lynn. Perfect matched with a piccolo.


- VIVA