Match your present to her personality, says Janetta Mackay, and ensure a treasured treat.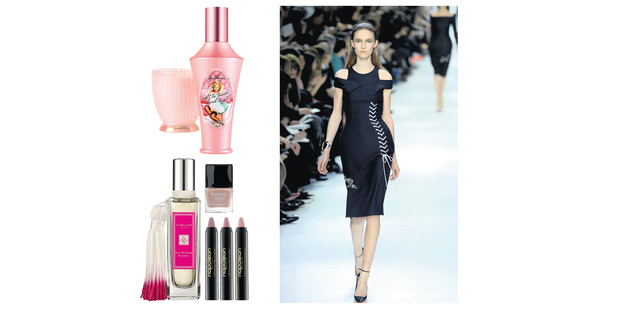 YUMMY MUMMY
Trim, taut and terrific, she segues from the gym to coffee catch-up to catering at home with easy aplomb. An urbanite with an eye for what's new, this woman is at ease with herself and her appearance. She balances trend tracking with designer savvy and considers taking time out an everyday essential.
Butter London Lacquer in Yummy Mummy $30
Nail the simple sophisticated nude look with this statement shade. Stockists ph (09) 528 5653.
Napoleon Perdis Cotton Butter Lip Balm Trio $58
Find the perfect neutral from this twist-up lip crayon set infused with soothing cotton seed oil. From selected Farmers stores.
Jo Malone Limited Edition Silk Blossom 30ml cologne $110
A cologne with sparkling floral appeal, made softly fresh with hints of apricot, spice and moss. Available in the usual handsome square bottle or new smaller slimline version.
Ph 0900 JOM SHOP.
Voluspa petite beaded glass Tiares candle $45
Boudoir pretty coconut wax candle with delicate scent of Tahitian gardenia flower. From Isabel Harris, isabelharris.co.nz.
Bathina Body Oil Mist $63
Retro glam look for silky gams, in this modern formula mist which absorbs easily. From Benefit counters at Smith & Caughey's or Auckland International Airport airside.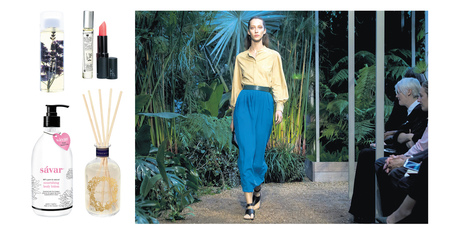 EARTH MOTHER
Banish those hippie ideas. This woman is as label-conscious as she is environmentally aware. Marketers refer to her as a Loha, meaning she seeks to live a life of health and sustainability, but friends and family know her as a warm-hearted bohemian beauty drawn to an eclectic array of keepsakes.
Savar Nourishing Body Lotion 500ml Limited Edition $49.99
Natural, locally made brands will always appeal to conscious consumers, so Savar's generous glassful of goodness is certain to please. The body lotion is enriched with primrose oil and extracts of fig and passionflower. For stockists see savaronline.com.
Royal Apothic Fig roll-on fragrance $29.99
Vials of fragrance oil are portable options to perfumes, allowing for easy re-application on pulse points. Royal Apothic's glass rollerballs come in a range of choices. From Isabel Harris, isabelharris.co.nz.
Karen Murrell Lipstick in Camellia Morning $29.95
This dusky cerise pink shade inspired by nature is kind to it, too, with the lipstick's cornstarch container being biodegradable and the natural ingredients hydrating and healthy. From selected pharmacies and health stores, karenmurrell.com.
Linden Leaves Aromatherapy Synergy Absolute Dreams Body Oil $59.99
Skin conditioning, spirit soothing massage oil that can be used in myriad ways, not only for the body, but for the bath, mani-pedi care, as a natural lavender fragrance, or even to tame hair frizz. Stockists, see lindenleaves.com.
Mor La Bohemienne Aromatic Reed Diffuser $59.99
Inspired by Victorian conservatories, the Jardiniere Collection from MOR will transform a living space into a secret garden. From department stores, Redcurrent and selected gift boutiques.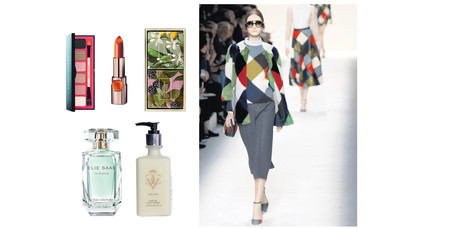 GLAM GRAN
She's always been a classicist and whether she has a second generation or not, this woman possesses enviable timeless style. Whether you aspire to her look, or simply wish to pay a compliment to her enduring good taste, be assured that these items she would approve of will always be appropriate.
Elie Saab L'Eau Couture 90ml Eau De Toilette $170
This elegant eau de nil distillation of designer fragrance is Elie Saab's most lightly luscious yet. Subtly sophisticated, like being cocooned in cashmere. From selected department stores and Life pharmacies.
L'Oreal Paris Color Riche Moisture Matte Lipstick $23.99
A pop of colour is always a stylish accessory. Matte lipstick formulas last longer, but can be drying, which is why we are impressed by the moist feel of this one, with jojoba oil for comfortable wear. In eight strong shades. From department and variety stores and pharmacies.
Vigneto E Castello Villa Collezione Hand & Body Cream $35
Pair this elegant Italian bathroom addition with its matching hand wash ($25). From French Country Collections, stockists ph 0800 503 500.
Bobbi Brown Nectar & Nudes Eye Palette $120
A go-to palette takes the fiddliness out of morning makeup. This one has the right mix of warming neutral shades. From Bobbi Brown Britomart and counters at selected department stores.
Jo Malone Blackberry & Bay and Orange Blossom Bath Soap Collection $70
British botanical artist Michael Angove has lent his talents to a new home collection from Jo Malone. His work interpreting the two featured fragrances decorates packaging for candles, sachets, diffusers and these soaps. Ph 0900 JOM SHOP.


- VIVA