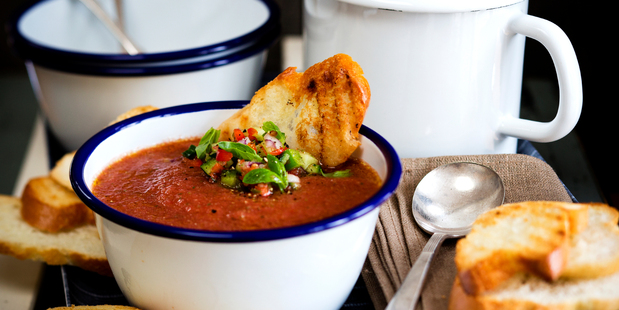 Gazpacho
Serves 4
• 6 large ripe tomatoes
• 2 cloves garlic
• 2 red pepper, seeds removed
• 1 green pepper, seeds removed
• 1 small red onion, chopped roughly
• 1 telegraph cucumber
• ¼ cup olive oil
• 2 Tbsp red wine vinegar
• Salt and freshly ground pepper
• ¼ cup basil leaves
• Croutons or crispy toasts to serve
1. In a blender place the tomatoes, garlic, on and a half red peppers and the green pepper, half the red onion and cucumber. Blend until as smooth as you can get it.
2. Pour through a coarse sieve into a large bowl. Discard bits in the sieve. Stir through olive oil and vinegar. Refrigerate until well chilled.
3. Cut the rest of the red pepper, onion and cucumber in small dice, season and stir through basil.
4. Serve gazpacho in bowls. Top with a spoon of diced vegetables and one large crouton or a few smaller ones on top.


- VIVA