Electronic grooming and beauty devices are handy helpers for men and women, writes Janetta Mackay.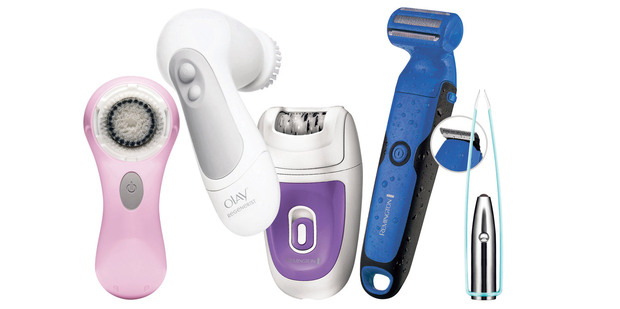 Gadgets aren't just a guy thing; in fact, they're a fast-expanding part of the beauty business with unisex appeal. New Zealand, being a small market, is a bit behind the times in the widespread availability of hand-held light therapy and even laser-style devices for use at home, but that's not necessarily a bad thing as you want to know exactly what you're handling before playing with these. In skincare, hair styling and face and body grooming, there's plenty of clever clogs tools on offer. Here are a few.


Clarisonic Mia 1 Classic $239
This American brand has one of the best-known sonic devices for skin cleansing. The non-vibrating, non-spinning brush gently helps exfoliate skin, keeping pores clear and removing dull, rough dead cells, using frequency to drive oscillation at between 200 to 350 movements a second.
The company claims cleansing this way is six times more effective than by hand. Clarisonic now makes other devices to help infuse skincare to delicate areas such as around the eye. The classic brush comes in a range of colours overseas, but distribution here is limited to pink and white.
From East Day Spa, see eastdayspa.com.


Olay Regenerist Specialty Cleanser $34.50
This battery-operated device has a replaceable brush head and is designed to be used with Olay Regenerist Skin Renewal Cleanser for a deep clean said to be four times more effective than regular cleansing.
Skin that is exfoliated regularly better absorbs other products and, naturally, Olay recommends using its serums afterwards. The brush rotates at two speeds and its nylon bristles are gentle. It comes boxed with a battery and the cleanser. Best of all, the device is water-resistant so it can be used in the shower. From selected pharmacies and supermarkets.


Remington Smooth & Silky Easy Epilator $79.99
It's been years since I tried an epilator and I remember them as fiddly and pingy. Times have changed. Shaving may be quicker, but if you don't fancy the stubbly after-effect or you have had laser hair removal and been left with a few recalcitrant hairs, then an epilator is worth a second look.
This one is the baby of the family, a compact travel model with two speeds and an angle cap to ensure an optimal tweezing angle. It can pick up hair as short as 0.5mm, making it handy for maintenance between waxes.
Facial detail caps and interchangeable heads allow bigger models to function as body shavers as well as epilators. The cordless waterproof version has a precision light and pivoting head and costs $149.99.


Remington WETech Body Hair Trimmer $169.99
The WETech line includes a state-of-the art rotary shaver at $269 and this body groomer, both of which are designed to be safe in the shower.
With sharp stainless blades, an interchangeable trimmer and foil attachment heads, the trimmer can be used for all-over manscaping or bikini-line detailing. The handle design allows easy hanging. From electrical retailers, ph 0800 736 776.


Talika Tweezer $38
An in-built light ensures those pesky hairs are highlighted for precision tweezing. Trickier is what to do if your vision isn't what it used to be. These days I tweeze with my glasses on my nose looking into a magnifying mirror. From Mecca Cosmetica stores, or see meccacosmetica.co.nz.


- VIVA