We chat to M.A.C senior artist Amber D about Lorde's makeup look at the Brit Awards and touring with the young star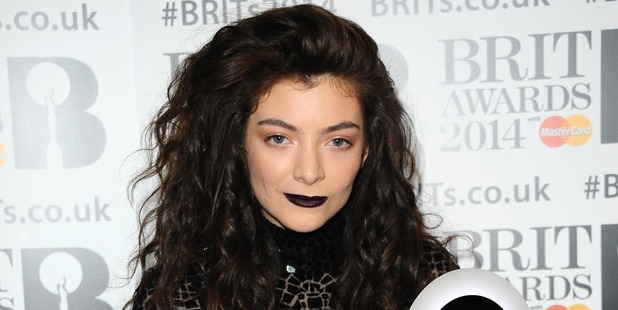 Amber D, M.A.C senior artist for New Zealand and Australia, has been touring with Lorde through the whirlwind award season, working with the star to create the youthful, edgy look that she has become renowned for. For Lorde's latest award haul at the Brit Awards, Amber kept things true to the singer's signature look with a lightweight and glowing face, a hint of a glossed eye and an even darker lip than usual, in a matte finish to play off her gorgeous Tom Ford gown. She tells us more.
How has Lorde's look evolved from the Grammy Awards?
It was quite different for the Grammys. We chose a more glossed looking eye to complement a much deeper lip shade for the Brits, keeping most of the makeup quite simple.


How much of the makeup is your influence and how much is Lorde? Or is it a real collaboration?
We are always in collaboration. I bring ideas to the table and Lorde will do the same.


How full-time is the work on Lorde's tour, do you have time for other jobs?
I am 100 per cent full time on tour at the moment! No time for anything else but that is no problem when my days are doing what I am doing.
It's a blast!


What is it like creating a look that is being picked up around the world by Lorde fans - especially young girls?
It's pretty amazing to see it being adopted by so many for sure. There have been a few things pop up at the current AW14 shows that look like Lorde's influence is reaching all walks of life. What she wears is so unique and seems to reach a wide audience from teens to high fashion as well.


Your black finger-tip look for the Grammy's was much talked about - was this your idea?
All Lorde's idea!


Any makeup tips for getting the Lorde look?
Remember to focus on one feature like a strong lip whether it's dark or bright and keep the skin looking fresh and luminous. Don't over do it with too much makeup everywhere. I always use M.A.C Strobe Cream for the perfect glow - it's an essential for all ages!


Key M.A.C. products used to create Lorde's Brit Awards look:
Mineralize Foundation.
Honey Lust Eye Shadow and Hey Eye Shadow from M.A.C
Eye Shadow x 15: Warm Neutral palette.
M.A.C PRO Mixing Medium Shine.
So Sweet, So Easy Cremeblend Blush.
M.A.C PRO Black Lipmix.
Smoked Purple Lipstick.
- VIVA