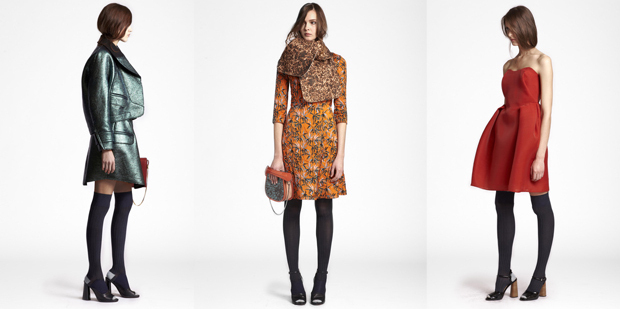 Whenever he travels, Guillaume Henry, the 34-year-old designer at Carven, is constantly told his clothes are very French.
"I can live with that," he reflected in London recently for the opening of Carven's first stand-alone shop. "I am French, I live near the Palais-Royal in Paris. I walk to my office every day across the Seine. It's like a Louis Malle movie. Yet Carven's now selling all over the world, so the clothes I design must be a little international too, non?"
Carven has been a phenomenal success since Henry took over in 2009. Then it was a husk of a brand, with nothing left of its formidable origins save for Ma Griffe, its famous scent, "which is ironic because Carven was the first label really to do ready-to-wear," says Henry.
It's now sold in over 600 stores across five continents - and it's not hard to see why. Slip into one of those softly rounded tulip bulb skirts, team it with a cropped jacket with curvy Carven lapels, or a heavy silk shirt with contrasting round collars, and you immediately feel dressed: elegant but interesting.
These clothes seem conventional at first glance, but they're not. They're light yet structured, chic but cool - the flip side of that understated, slouchy maman-chic that Isabel Marant does so well, but no less breezy to wear.
Is that French? French with a global twist? Or a mythical notion of French style that never really existed? Whatever it is, it's potent.
Although it generally costs half as much as the big luxury brands, Carven is not cheap - this is a designer label. Along with thoughtful design, it produces its own fabrics. You may have to save up, but you'll be rewarded with a contemporary classic.
Impressively, Henry assembled the Carven look from scratch. "The label had been sold so many times that by the time I was hired, there was nothing left apart from some weird swimwear produced under licence in Asia." There weren't even any archives, as Madame Carven had donated all her sketches and collections to the Musee Galliera.
He tracked them down. "But to be honest, wonderful as they were, they were very much of their time." Unlike Saint Laurent's tuxedo dressing or Chanel's tweed suits, Madame C didn't bequeath her successors specific items that readily lent themselves to re-interpretation. "She was more about an attitude," says Henry. "There's one particular photo of her on the grass, very languid, but wearing tweed shorts and a pussy-cat bow blouse."
The way in which Henry set about reconstructing this house - where numerous predecessors had failed - might just be a blueprint for future designers. "I began looking at opposites," he explains. "What's the opposite of rich? Poor. So combine wool with polyesters. Couture? It has to be sporty, so mix a full skirt with a chunky sweater. Sexy? I would say shy, and always provide some cover. Feminine? Include something practical and maybe a bit clunky. Wear a heel, but always one you can walk in."
The composite woman pulling into focus here, with her very modern contradictions, is not a million miles from Madame Carven herself.
She was quite a gal - tiny, but plucky. Born Carmen de Tommaso in 1909, she portmanteaued her first name with her aunt's last name (Boyriven) to sound more French. Having studied architecture, she opened a boutique on the Champs-Elysees in 1945, initially sourcing furniture material because that was all that was available. She hung out with Cocteau, learned to fly planes and continued working into her 80s.
What's interesting is how Henry, the son of a banker and teacher from a tiny village near Dijon, has distilled her spirit (and her perfume, repackaged for the 21st century). Unlike her, he wanted to design clothes from the age of 9; organised a fashion show for his village when he was 15, was a star pupil at Paris's Ecole Duperre and set up his own label at 21. A stint at mid-market Paule Ka followed, then a period at Givenchy. His peers told him not to take the Paule Ka job - they considered it too commercial. But Henry wanted to work somewhere that dressed real women without patronising them - principles he's embraced at Carven, but with a quirky point of view. "You can be young at any age, "he says, "It's about your mind." Now that point of view is French.
- The Telegraph
• Carven is available in Auckland at Adorno and arrives soon at Fabric.