Susanna Brown spends her days surrounded by the world's best images, as curator of photographs at the Victoria and Albert Museum in London. The museum's collection features more than half a million works, including fashion photography from the likes of Helmut Newton and Tim Walker, some of which Brown has selected to feature in the stunning exhibition Selling Dreams: One Hundred Years of Fashion Photography, opening at Auckland Museum on Friday. Brown, whose projects include last year's exhibition of Cecil Beaton's Royal portraits and an upcoming retrospective of fashion photographer Horst P. Horst, talks to us about the major exhibition, which runs until February.


Where did the idea for Selling Dreams come from?
The V&A collection comprises around half a million photographs and includes many hundreds of brilliant fashion photographs. As a curator with a special interest in the history of portrait and fashion photography, this project was a chance for me to look more closely at some of those works and to exhibit some for the first time.


The exhibition is grouped into photographic themes - "Classicism and Surrealism", "Picturing Femininity" and so on. How did you decide on each section?
The thematic sections within the show are intended to chart the past century of image-making and to bring together photographers who share a similar aesthetic or approach. One of my favourite sections is called "Shooting in the City", which looks at dynamic works by the likes of Avedon, Klein and Sokolsky, who were photographing in a reportage style outside the confines of the studio.
Sokolsky had a brief but intense career as a fashion photographer for Harper's Bazaar. Audaciously imaginative, he could bestow a magical aura on even the plainest outfits. His famous "Bubble" series features models floating over rivers and through the city streets of Paris and New York.


Read our interview with Sokolsky here.


How did you select the images that feature in the exhibition?
I aimed to create a balance between the classic icons, such as Irving Penn's Harlequin Dress, and less well-known images, or those which haven't been exhibited before. It was also important not to overlook some of the 20th century's incredible female photographers, such as Ilse Bing and Lillian Bassman.


Do you have a favourite image?
Recently, I've been doing a lot of research into 1930s photography and French couture, and one of my favourite pictures from that era is the Mainbocher Corset by Horst P. Horst. It has been imitated by many subsequent artists, but never bettered. Horst was incredibly meticulous and would sometimes spend two days arranging the studio lights for a single shoot. Here, the lighting and composition are both exquisite. The image is at once melancholy and seductive; it was the last picture he made in Paris before fleeing to America in 1939.


Many of the images in the exhibition are iconic. What do you think makes a memorable image?
For me, the greatest fashion pictures are those that tell a story and live up to Irving Penn's comment about his work for Vogue: "I always thought we were selling dreams, not clothes."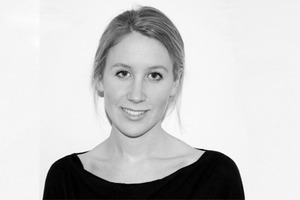 Your background is in photography, but why do you think fashion photography in particular is important?
In traditional histories of photography, fashion images have often been overlooked, but many of the world's most accomplished photographers have worked in fashion. The creation of a great fashion picture is a truly collaborative process - it's a collaboration not only between artist and model, but also involving the skills of fashion editors, stylists and hair and makeup artists.


What are the main differences in fashion imagery today compared to the earlier work that features in the exhibition? What are the similarities?
One of the main differences is the freedom photographers have today as a result of changes in camera technology. In the early 20th century, photographers were forced to work inside the studio as cameras and lights were much less portable than they are today. Professional models barely existed 100 years ago, so the women who appeared in fashion magazines tended to be society beauties, singers and actresses.


What young fashion photographers excite you right now?
I love Cathleen Naundorf's polaroids; she did a spectacular shoot at the V&A this year for Harper's. I think Tim Walker is one of Britain's most gifted fashion photographers - his pictures are wonderfully imaginative. He draws inspiration from many sources, including children's fairy stories and early magazine images.


What projects are you currently working on?
At the moment I'm writing a book on Vogue photographer Horst, who had a prolific 60-year career. It will be published next September to coincide with the V&A's major exhibition and includes contributions from 10 scholars, shedding light on areas of his work that have been overlooked in the past. I'm very excited about it!


VIP VIVA
We are excited to have 200 tickets to the Selling Dreams: One Hundred Years of Fashion Photography exhibition to give away - enter here.
- VIVA