Fiona Ralph meets jeweller Gabrielle Jelicich at her Grey Lynn studio.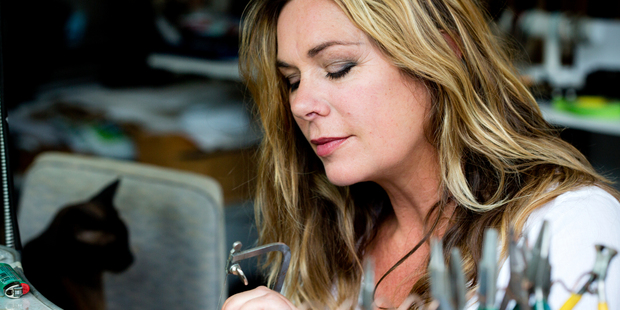 From Florence to Grey Lynn, via Waiheke, Gabrielle Jelicich brings far-flung inspirations to her bespoke engagement rings and range of streetwear pieces, Stash Jewels.
Utilising reworked antique stones along with bronze and silver to create rock-star designs for men and women, the designer says of the chunky pieces, "It's a bit more fun to make than fine jewellery. I always say I like jewellery to clunk, not jingle."
Though each piece is made by hand in her Grey Lynn studio, much of the design process takes place on Waiheke, where she lives with her husband and children. It's the perfect spot for a family of sailors and artisans - her husband, Ilan Graetz, is the shore manager of America's Cup challenger Luna Rossa.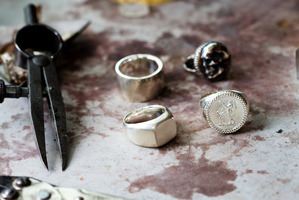 Theirs was a chance meeting in Florence, 17 years ago, when a friend brought Graetz to dinner. "In Italy, if you have 13 at the table you have to set an extra place as it's really bad luck, and he became the 14th person.
He stayed and did my dishes, and then left very politely."
Eventually Jelicich moved on to Graetz's family estate, Castello di Vincigliata in Fiesoli, a bohemian gathering of houses and family, many also sculptors and jewellers, with the odd winemaker thrown in.
"At one point we were all there, it was amazing. The kids would just eat at one house or another. There was a big communal vege garden and you always made dinner for 10 because at least another handful would wander by and smell it."
Based in Florence for 15 years, Jelicich headed up the creative department of a jewellery factory, before teaching her craft at the international institute Lorenzo de' Medici. She admits she misses the Italian lifestyle. "You can't compare it, it's just worlds apart."
A sculpture by Graetz's father in their Grey Lynn garden keeps the Italian family connection alive and represents one of Jelicich's other passions, alongside painting.
A career highlight for her was the design of 61 large-scale sculptures for the Ritz-Carlton Shanghai, Pudong - a project that took two and a half years.
Jelicich says of her busy studio, "Now it's quite jewellery orientated but sometimes I've got sculpture there, painting there, jewellery there - I want a barn, actually. Wouldn't that be amazing?"


- VIVA