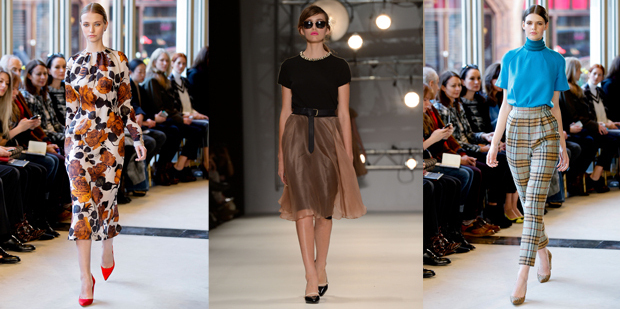 As the nation is once again divided into haves and have-nots, it may seem in bad taste to be celebrating the style of that once-dominant breed, the Sloane Ranger. But sometimes the most meaningful way to make sense of the fashion world is with tongue placed firmly in cheek.
Many designers are proudly political animals, happy to fly their party colours with pride. Look at Britain's Anya Hindmarch, who dedicated a window display to Lincolnshire's most famous grocer's daughter to coincide with the release of The Iron Lady; or Alexander McQueen, who reportedly chalked expletives on the lining of Prince Charles' suits when the designer worked at Gieves & Hawkes. But there are many who won't publicly align themselves with one faction or another.
So while in certain circles the preponderance of pearls, bows, twin-sets and tweed has not faltered in the 31 years since The Official Sloane Ranger Handbook was published, a sudden convergence on the catwalks of Europe is something of a surprise.
Make no mistake, modern Sloane favourites Issa, Matthew Williamson and Alice Temperley haven't come in from the cold. But a clever spin on the signatures can be jolly good fun.
This season, designers have kindly catered to the female Sloane Ranger in three stages of her life.
Boarding School Sloane sneaks out of the dorm window and into the night in a regulation duffle and tea dress.
A career is no longer distinctly non-U among the smart set, so high-flying hotshots dress the City Sloane part in pussy-bow blouses and ruffle collars, accessorised with smart skirts and killer heels.
Meanwhile, Country Sloane is perhaps the most familiar specimen, in tweeds and tartans, twin sets and practical shoes.
Though they're traditionally staples of the more mature matriarch's wardrobe, Emilia Wickstead, the young New Zealand-born designer who is a favourite of the Sloane set (including Kate Middleton), is working to pass the country casuals baton to a new generation. Giles Deacon's leg-of-mutton sleeves were a joy to behold, but, styled with super-sized beanies and gothic pallor, the look was at once romantic and revolutionary.
At Alexander McQueen, pearls studded designer Sarah Burton's ecclesiastical, couture-like collection that was a sublime take on a bit of rough. While gilded cages and fulsome skirts are pure fantasy, the brand's extremely successful commercial line is strewn with pearls, too, from box-clutches and high-heeled booties to pencil skirts and pie-crust-collared knits.
What has led to this retro return? Is it sociological? Perhaps. The original Sloane Ranger was identified after a period of recession, after all. An alternative source of inspiration could be The Victoria & Albert museum, which is currently hosting an exhibition charting the history of pearls and their association with royalty, wealth and glamour as far back as the days of the Roman empire.
The Harpers & Queen-published bestseller did warn us: Sloane Rangerhood is a state of mind that's eternal. You might believe it's all different now, that nobody's like that any more. You'd be wrong.
- The Independent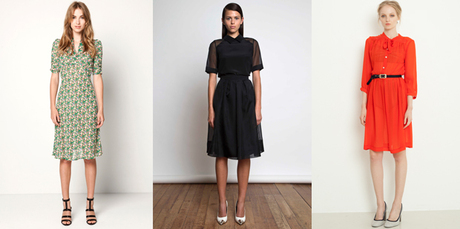 THE NEW ZEALAND SLOANE
Look to these brands for a local take on Sloane Ranger style:
- Kate Sylvester's knitwear with pearly bead detail
- Helen Cherry's dainty floral tea dress
- Ingrid Starnes' pussy-bow dresses
- Juliette Hogan's prim shirt with organza sleeves
- Twenty-seven Names grosgrain bow adorned dresses