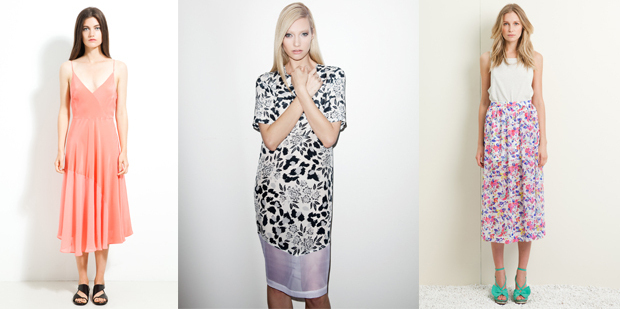 Summer's coming, temperatures are rising ... but hemlines are dropping, much to the relief of many. The mood is midi - in skirts and dresses, and a longer length of shorts - more modest ways of staying cool and chic while still showing off your pins.
On the international runways, no show was complete without a nod to the new length. Designers from Acne, Vera Wang and Balenciaga to Celine, Rag & Bone and Prada all tapped in, with designs from A-line to pencil and culottes to Bermuda. High street brands were quick to catch on to the trend, cementing its place as a wardrobe must-have. And even street wear labels are getting on board. Ksubi, loyal purveyors of teeny tiny cutoffs and skimpy skirts, have added a longer denim short and a pencil skirt that sits on the knee.
Members of the style set such as Alexa Chung, Taylor Tomasi Hill and Christine Centenera were equally fast to embrace the fresh hemline - showing the rest of us the best ways to work the look.
Closer to home and with summer collections currently being released, many local designers and stores have picked up on the potential of the length - so those who, in previous seasons, were left high and dry with micro-shorts and miniskirts can relax and enjoy getting dressed again.
"Over the past few seasons our skirt lengths have either been to the floor for a formal dress or short for daywear, so it was fun to play around with a length in between the two," says Liam designer Emily Miller-Sharma. "It's an easy way to move from office-appropriate daywear to something a little more formal.
"I guess when an aspect of what you wear alters a little, you become more aware of what you're wearing, and just that act of noticing is playful and fun. They also feel so good on bare legs, especially when made in a beautiful silk."
Lucy Kemp of Pardon My French always includes a longer length option in her collections. "Especially for the summer season, longer lengths are important for those who may not be 100 per cent body confident but still want to feel comfortable in the warmer months."
"The longer hemlines could possibly be a reaction to the amount of scantily clad celebrities we constantly see in magazines."
Aside from the obvious appeal of a little extra fabric, the midi length is also beautifully versatile, sitting (literally) on the line between casual and formal. Try a culotte suit or a simple, cotton sleeveless midi dress at work. Take a flared, A-line skirt out for dinner or embrace weekend comfort without compromising on style in a jersey skirt or tank dress that sits just below the knee.
"We're totally taken by the new midi length," says Blak designer Teresa Hodges. "I'm in love with how it can be sporty, edgy or elegant - worn with ankle boots, flatforms or sneakers. It has a cool new feeling to it."
- VIVA