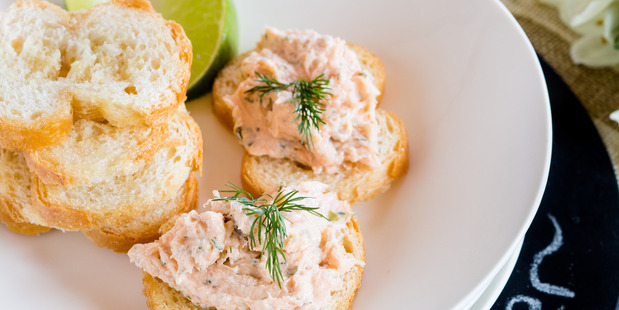 Salmon pate. White side plates and condiment bowl from Father Rabbit. Chalkboard placemats courtesy of Wildernest. Photo / Babiche Martens.
Quick salmon pate
Makes 2 cups
• 200g cream cheese
• 200g smoked salmon
• 2 tbsp lemon juice
• 2 tbsp capers
• 2 tbsp roughly chopped dill
• Freshly ground pepper
1. In a processor place the cream cheese, salmon, juice, capers, dill and freshly ground pepper. Blitz until well combined. Cover and refrigerate until ready to serve.
2. Serve with crostini or crackers with a squeeze of lime.


- VIVA