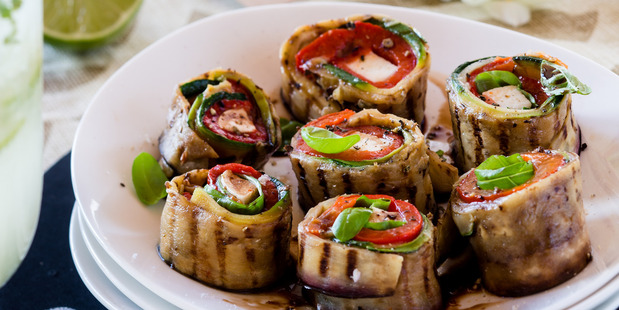 Vegetable pinewheels. Bastide glasses from Republic. White plates and white linen napkin all from Father Rabbit. Photo / Babiche Martens.
Vegetable Pinwheels
Makes 16
• 1 large eggplant, cut in thin slices
• 3 courgettes, cut in thin slices
• ¼ cup olive oil
• 2 red peppers
• Handful of basil leaves
• 100g buffalo mozzarella
• Salt and freshly ground pepper
• Drizzle of balsamic vinegar
1. Heat a barbecue to a medium heat. Rub the vegetables with oil and place on the barbecue for 2 minutes, then turn for a further 2 minutes until cooked through. Remove and cool.
2. Chargrill peppers whole, turning with tongs until they blister and start to blacken on the outsides. Remove and place in a plastic bag to cool. When cool enough to handle, peel off the skin, remove the seeds and slice into quarters.
3. On the bench lay the eggplant, cover with 2 slices of courgette, peppers, and basil leaves. Place a piece of mozzarella in the centre, season with salt and pepper and roll.
4. Slice each vegetable roll in half. Drizzle with balsamic and serve.


- VIVA