Janetta Mackay reports on the latest in nail trends, from polishes to decals.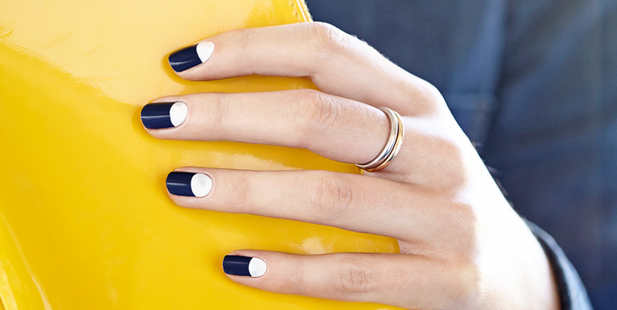 Nails are one of the beauty world's big focuses at the moment.
They're a cheap and cheerful update, but also coming in for increasingly intricate treatments. Celebrities fly their favourite manicurists across the globe to ensure their talons are freshly sharpened and their paint jobs magazine-worthy.
The roster of backstage beauty spokespeople who help set international consumer trends now includes nail experts jostling for space with hair and makeup artists.
At New Zealand Fashion Week this year, the nail looks stepped up a notch, with some of the country's best artists in action. Behind the scenes Leah Light worked the shows with teams from M.A.C, and Amber McIver and her Verdo Nails crew offered the public a taste of the latest nail looks out the front.
At trade shows and beauty events, new nail services are increasingly to the fore. Manicurists say customers of all ages are increasingly willing to try something new.
A vast choice of coloured polishes is now a given, so we look at what else will keep you nail wise.


DECORATE
Nail art is big news. If your hand is shaky like mine leave it to the experts, but if you fancy a bit of DIY there are plenty of tutorials online. Unless you're particularly artistic, colour-blocked graphic shapes are easiest to achieve.
Felt-style solid tipped nail pens allow you to draw straight onto a base coat or a colour as an alternative to brushing on polish. Professionals use fine brushes and even toothpicks to dot on designs. Once your handiwork has dried seal it with a clear top coat.
Try: Manicare Glam Nails Nail Art Pen in Baby Pink (with bonus nail stencils), $12.99; Topshop Nail Art Pen in Fool's Gold, $16; and Revlon Nail Art Moon Candy double-ended colour and glitter coat polish for a French tip with a difference, $17.50.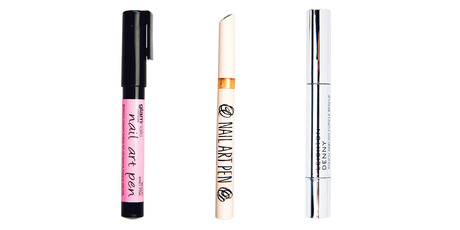 SALON AT HOME
Hybrid gel-style polishes, which wear for a long time without chipping, such as the pioneering Shellac, have grabbed a share of the salon market, turning some women away from potentially damaging acrylics and gel nails and others from regular polish.
It's nice knowing nails will stay looking good for days, but returning for removal is a pain. So no surprise then that we are starting to see products such as nail dryers and lamp kits developed for at-home use that promise to marry convenience with salon-style performance.
An example I haven't tested yet is from Depend, a Swedish company, which has brought out a GelLack starter kit with its own LED lamp and a nail cleanser, base and top coat, to be used with its gel-look polishes for a high-shine finish said to last two to three weeks.
Regular polishes are also being tweaked to match increasing customer expectations, with both long-wearing and quick-dry formulas improving. Beneath it all, though, good nail health needs to be maintained to get a good look.
Try: Depend GelLack Starter Kit, with LED lamp, $99 (plus polish at $12.99, exclusive to Farmers); Leighton Denny Slick Tip Touch & Go Cuticle Rescue, a brush-on care oil, $30; and QVS Extra Conditioning Polish Remover, $6.99.


APP-LICATE
Another way to prettify your nail is with stick-on decals. There are stacks of these so-called nail apps to choose from. Revlon is leading the way with intricate baroque designs, and Sally Hansen and OPI also have good, easy-to-find brands.
Apps come in packs containing a range of sticker sizes so should fit most fingernails, although you may need to fold and file the ends to get a neat finish. Before applying give them a softening quick blast with a blowdryer to ensure they adhere well. Top coat optional.
Try: Mecca Cosmetica's Nail Appliques, $20 (we especially like the graphic black and white New York design pictured opposite, and the subtle nude and white Paris version); Revlon Nail Art 3D Jewel Appliques in Star Studded, $17.50; or for textural interest apply Sally Hansen's Fuzzy Coat Nail Color in Tweedy, $12.99.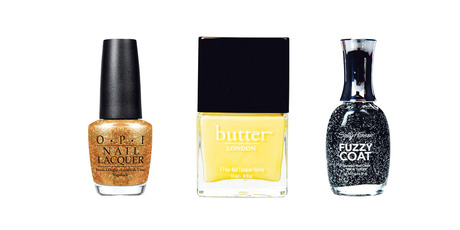 GOLD PLATE
The bling-thing is going strong as a jewellery look, so not surprisingly this has extended to nails, with gold-glitter polishes and other shiny surfaces popular. Go the whole 24 carats, with a premium manicure using the real deal. Boutique Parnell nail bar, Verdo Nails, sources gold flakes from a jeweller to ensure quality and purity and has applied this to handful a of clients.
At $1200, the Gold Dust Manicure costs as much as buying an actual gold ring, but there are other ways of getting gold fingers. Try the more affordable option of a gold-coloured polish or a colour infused with a golden gleam.
Straight gold (and silver) polishes can look a bit streaky, so choosing one with colour reflects or glitter helps give the impression of a smoother finish. To make glitter polish feel less like sandpaper, layer on some top coat.
Try: Orly FX Rose Pixel lacquer, $24.99; M.A.C Nail Lacquer in gold-bronze Fierce Entrance, $28; and OPI Nail Lacquer in Golden Eye, $24.90.


GO NUDE (OR NOT!)
As an antidote to all the brightly coloured nail polishes that are about - from intense metallics and neons to blues and greens - there's a swing in certain fashion circles back to nudes. This will appeal to those who like their nails to look elegant rather than out there.
Choose from traditional buff and pink shades or the newer nudes with a twist, including those with a greyish, taupe or mauve tinge, or a shimmer or matte finish. Classic red nails are also back in fashion, just keep them shaped short so they're not scary. While darks remain popular for toes, tropical bright shades are competing with neutrals and pastels on fingers.
Try: Essie Nail Colour in Allure, $22.99, or tone up to the minty Kester Black Bubblegum polish, $20; or Butter London's pale lemon Jasper shade, $30.