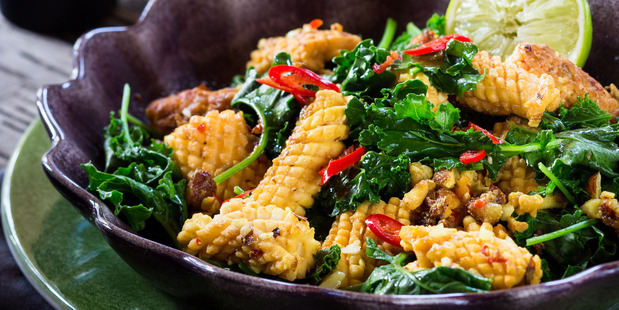 Warm Squid and Kale Salad
Serves 4
• 3 cloves garlic, chopped
• 1 red chilli, roughly chopped
• 1 tsp grated ginger
• ¼ cup cashew nuts, roasted
• 1 spring onion, chopped
• 2 tsp shrimp paste, available from supermarkets and Asian stores
• ¼ cup coconut or olive oil
• 400g scored squid tubes, small tubes left whole
• 120g kale, washed, and large stalks removed
• 2 limes, 1 for garnish
• Sea salt to taste
1. Into a mortar and pestle, place garlic, chilli, ginger, nuts and spring onion. Crush until mixed together. Add shrimp paste and half the oil and mix again.
2. Place squid into a large bowl and pour over the paste. Rub well and refrigerate for at least 30 minutes.
3. When ready to cook heat remaining oil to a high heat. Add squid and cook for 30 seconds. Then add the kale and toss until wilted, approximately 1 minute. Squeeze over the juice of 1 lime.
4. Serve immediately with a sprinkling of salt. Garnish with the other lime.
- VIVA