Each Thursday Eleanor Ozich of Petite Kitchen will share her thoughts on healthy eating, with recipes and more.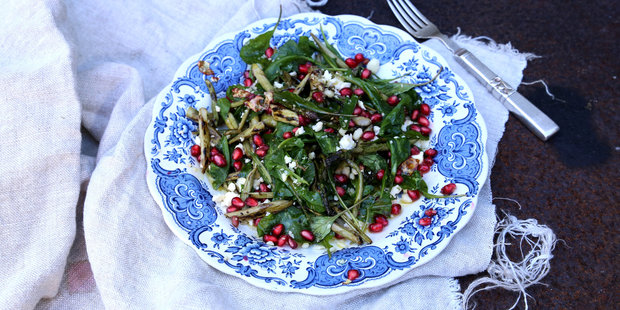 Today I share with you a beautiful and vibrant spring asparagus salad with fresh rocket, goat's cheese and pomegranate seeds.
By grilling the asparagus at a high heat, it gives a lovely chargrilled flavour that soaks up the tangy lemon juice and extra virgin olive oil dressing.
The peppery rocket gives a lovely crunch to each mouthful with the added burst of sweet juice from the stunning pomegranate seeds. I have added creamy goat's cheese but feta would work wonderfully also.


SPRING ASPARAGUS AND ROCKET SALAD WITH GOAT'S CHEESE AND POMEGRANATE
Serves 2 as a light meal or 4 as a side dish.
Ingredients
• 2 Tbsp ghee, butter or olive oil
• 2 bunches of asparagus
• 3 large handfuls of fresh rocket
• Half a block of goat's cheese (about 125g), broken into pieces
• Seeds of one pomegranate
• A good drizzle of extra virgin olive oil
• Juice of half a lemon
• Sea salt and pepper


1. Trim the rough, woody ends of the asparagus, and then slice the spears at an angle.
2. Heat the ghee, butter or olive oil in a large skillet over high heat.
3. Add the asparagus, and grill for 2-3 minutes, while tossing, until slightly charred.
4. Leave to cool slightly, and then add to a large salad bowl along with the rocket and goat's cheese.
5. Add a good drizzle of extra virgin olive oil, the lemon juice, and a generous pinch of sea salt and pepper, toss until coated in the dressing.
6. To serve, sprinkle with the pomegranate seeds.


- VIVA