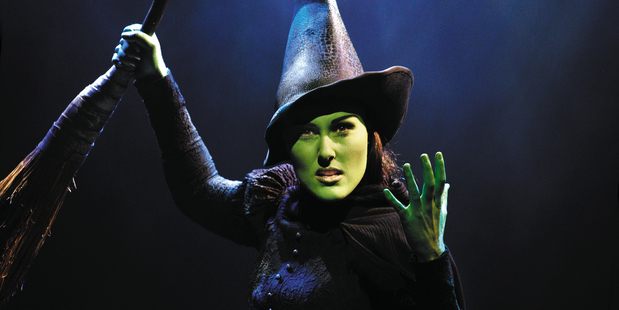 Jemma Rix has spent around 850 evenings going green for her starring role in the hit musical Wicked. The affable Australian is whipped with what looks like a whopping paint brush to apply coats of colour to her face, neck and hands.
Thankfully, it's a soft natural bristle, but I wouldn't imagine she has to waste a lot of time exfoliating after the nightly ritual that turns her into Elphaba, the Wicked Witch of the West.
Except Elphaba's not that wicked a witch, more like misunderstood, in this hugely entertaining prequel of The Wizard of Oz. It gives the witches a back story that resonates with a generation brought up on movies like Mean Girls. We also see the Tin Man, the Scarecrow, the Lion and Dorothy's sparkly shoes in a whole new light.
I get to see the Wizard, played by New Zealander Jay Laga'aia, in the elevator around an hour before the show starts as we head backstage at the Civic Theatre in Auckland. Rix is already warming up in her dressing room, when I file in with a small group of beauty writers.
Sitting in her bra and tights, with heavy costumes hanging nearby, she is unfazed by the early audience as she awaits the ministrations of the head of wigs and makeup, Kellie Ritchie. The chatty star, who worked her way up from doing repertory in coastal New South Wales where she grew up, has been with Wicked since 2008, taking over the lead role a year or so later. Last stop was Korea, next stop is the Philippines, before the cast and crew head back to Australia for more seasons in the main centres. Rix is loving the temperate weather and playing in the character building that is the Civic. Her parents popped over to see her and Waiheke wines were sampled.
"When I'm doing the show I never normally wear makeup [during the day], because I know I have to get green later,'' she says. As a sufferer of dermatitis she needs to be particularly careful and uses sorbolene cream beneath her stage makeup. The green is achieved with a water-based product from M.A.C Pro, called Chromacake Landscape Green, followed with transparent setting powder. It's meant to look natural - as green skin goes - rather than freakishly witchy.
After so many years in the chair, Rix finds getting it applied relaxing, but during the interval things are frantic with wig and costume changes, touch-ups to her green hands and more face makeup applied by way of contouring and heavier brows to match her ageing character and darkening mood.
Ritchie explains that as well as the Chromacake, regular M.A.C products are used to get Rix's witchy look, topped with a golden olive pigment. This includes using the dark eye pencil Smoulder as a lip-liner with Forever Green eye pencil on top. Her tip for anyone after a similar look this Halloween is to try Chromacake as a face base rather than cheap green paint from a discount store.
"Kellie makes me so pretty," says Rix, who turns out to be one happy witch. The 28-year-old says eventually she would love to do another show, but not while she is still wanted on Wicked. "This is the role of a lifetime."
* Wicked runs at the Civic Theatre, Auckland, until November 24. M.A.C Pro makeup is available from the Britomart store.
- VIVA