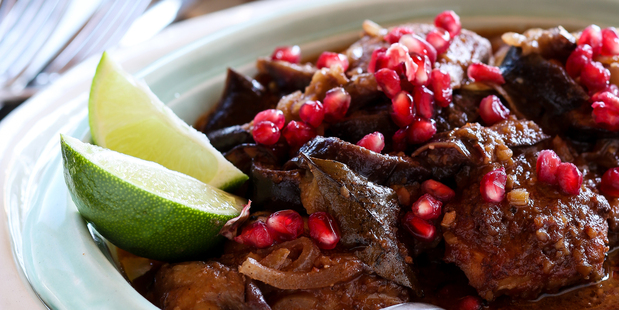 Serves 4
• 8 boneless chicken thighs
• ¼ cup lime juice
• 20g butter
• 2 onions, chopped
• ½ tsp cardamom
• ½ tsp cinnamon
• 2 Tbsp oil
• 1 aubergine, sliced 1cm thick
• 1 cup finely ground walnuts
• 1 cup pomegranate molasses
• ¼ cup runny honey
• 2 bay leaves
• 1 Tbsp tomato paste
• 1 cup chicken stock
Optional garnish:
• Pomegranate seeds, to sprinkle

1. Preheat oven to 175C. Place chicken in a bowl and pour over lime juice. Leave for 15 minutes.
2. Melt butter in a frying pan. Add onions and cook 3-4 minutes, until softened. Stir through cardamom and cinnamon, and place in an ovenproof dish. Add chicken and brown on both sides, then add to the onions.
3. In the same pan, heat oil and fry aubergine until just starting to soften.
Place in the oven dish.
4.Mix together walnuts, pomegranate molasses, honey, bay leaves, tomato paste and chicken stock. Pour over chicken.
5. Cook in oven for 20 minutes covered. Remove lid and cook a further 10 minutes. Serve with green rice.

Green Rice
• 1 cup basmati rice, cooked then cooled
• 25g butter
• Pinch saffron, soaked in ¼ cup warm water
• 500g broad beans
• ¼ cup chopped dill
• Salt and pepper, to taste

1. Heat butter in a frying pan. Toss all ingredients together and serve hot.

- VIVA


For the good things in life on the go, download the Viva iPad app, free now at appstore.com/vivamagazinenz.