Riccardo Tisci has ushered in an era of Gothic luxury and sweatshirt chic at the reinvigorated French fashion label, writes Lisa Armstrong.
I don't know why, but I thought Riccardo Tisci would be a tricky devil. Well, I do know.
He's the creative director of Givenchy, arguably the hippest label in Paris these days. His hot-ticket, moody shows are clammy with that slightly morbid beauty that has fashion groupies swooning. Last season he had Antony Hegarty from Antony and the Johnsons on his catwalk, singing about the abuse of women and nature. This time it was a pile-up of smoking Saabs and BMWs - presumably a reference to the pile-up of Asian and African references in those draped, beaded and feathered dresses.
Imagine a Romantic poet reincarnated as a designer of sleek, tight leather jackets and drainpipes and you're getting close to the Tisci profile. While his deft way with laser-cut leathers took the rock chick to a new level of Parisian luxury, it's his deluxe line of sweatshirts and T-shirts that have proved commercial gold, allowing women to wear what they've been secretly yearning to: comfortable casuals in a high-fashion guise.
The rich ones buy directly from Givenchy. Everyone else gets it from Zara. Those gorgeous rose blooms all over the high street? Pure Tisci.
But what do you know? It turns out fashion's answer to John Keats is not only very likeable but used to be a branch manager at the Monsoon fashion chain in London. He was also a buyer for a Japanese retailer, so he knows what women want to wear. He once worked as a bouncer as well, and he used to be fat. Or so he says. He's still only 39. But he began very young. By 11 he'd left formal academia and enrolled in art school in Milan, the city in which he grew up.
"I wanted to express myself and I couldn't do it through words at that point. I was very shy, very scared of life. It sounds screwed up [he didn't say screwed but something more Anglo-Saxon - he did work as a bouncer in Brighton, remember] but I would get bored with the kids at school who were always playing Pac-Man; I preferred to be at home painting or learning how to garden from my mum."
He recounts this as we try to sit up straight on those huge modish sofas beloved of fashion houses at Givenchy's HQ in Paris. This is the company whose fortunes he's turned around after John Galliano and Alexander McQueen retired from it, slightly defeated.
This is Audrey's Givenchy. Hubert de Givenchy's Givenchy. It had been bleeding money for decades. There wasn't even a photocopier when Tisci got there, a slightly rabbit-in-the-headlights 31-year-old.
His early collections for the house were raw, full of ideas, sharp silhouettes and plangent intent. After what seemed a long history of under-performers at Givenchy, he seemed almost destined to fail. But he stuck to his guns, even when the fashion press were aiming theirs at him. "Oh my God, it was tough at the start," he recalls.
He's wearing a red-check lumberjack shirt from his menswear collection and dark jeans. If one didn't know it was a Fashion Look, one would think he was very normal, albeit exceptionally good-looking.
"People would turn up really late for work," he says. "Because everyone in the company had almost given up. It was hard the first three years - 24 hours a day dedicated to this house."
Gradually he turned it around. He honed his skills until his hands were as fluent as his imagination and he could get his cloth to drape and fold exactly as he wanted.
"The staff would see me working till midnight and coming in at seven in the morning and they began to realise that I really believed in it. So they were very sweet and helpful. I always say if you don't get people from the heart you won't get anywhere."
After 29 years in a parlous state, Givenchy is now in profit. Just as importantly, Tisci has positioned it firmly in the top tier of houses that count creatively, ushering in a new era of Goth-y luxury that women can't seem to get enough of, despite its killer prices. He even claims that his weakness for the Gothic sits well with Givenchy's traditions. "Black tailoring," he says, "it's what this house was always known for."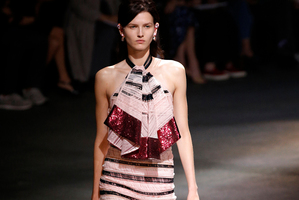 It's all an exceptionally long way from his roots. The Italian Tiscis were stony broke - and there were a lot of them. His father died when Riccardo was 4. Everyone was expected to contribute to the family coffers, so they all had multiple jobs. Riccardo was working part-time with his uncle as a plasterer when he was 11. His mother, Elmerinda, probably had other things on her mind, such as feeding her nine children.
At this point, his story is sounding rather Victor Hugo. The literal-minded might say no wonder there's an aura of poetic misery looming over his shows. But if anyone has made the best of their circumstances, it's the Tiscis.
"There was so much love in our family and we were very close. Also, my sisters were very vain. They loved to make the best of themselves."
Elmerinda, who, according to her son, is super bright but couldn't read until her 20s, taught her children the fundamentals of what sounds like humanism. "We never felt deprived. We learned never to judge on colour or appearances."
Fashion didn't cross his radar until he moved to London in the early 90s. "My mum was the only one who supported me; my sisters were like, 'You don't speak English, you don't have any money. You'll be back in a few months'."
He wasn't. He saw an advert for a fashion college in The Big Issue. He applied, won a scholarship to London's Central Saint Martins, worked for Antonio Berardi, and eventually set up his own small label in Italy, making T-shirts and almost getting arrested for staging guerilla fashion shows.
Having the police shut down your show is edgy and very Tisci. So is taking something democratic and making it luxurious. He says he wanted to ensure there was something in his collection that women like his sisters could afford. The law of unintended consequences, however, means that the designer T-shirt now costs a not-so-small fortune. So do sweatshirts, which, thanks to Tisci, are the latest wardrobe updater.
The thing you really don't appreciate from watching a Tisci show is that he's rather a cheery soul, who has his mother sit in the front row at every occasion.
The playing around with gender boundaries - he was almost certainly the first designer of a luxury label to use a transgender model - sprang not from a desire to provoke gratuitously but was a gesture of solidarity that traces back to Elmerinda's lessons on tolerance. Lea T was called Leandro Cerezo - the son of Torinho Cerezo, a Brazilian footballer - when he first worked for Tisci as a fittings model.
"Here was this boy who was lost. His family didn't expect him to become a woman because he was a Catholic. I took him in because I didn't want him to end up as a prostitute . . . The management at Givenchy was very cool about it."
In the three years since Tisci used Lea T in his show, attitudes, in the fashion industry at least, have moved from lurid headlines to something approaching acceptance. Large fashion brands often fall flat on their faces when they try to blend their corporate responsibility obligations into a fashion context. But Tisci has made it work. He also does beautiful clothes.
- THE DAILY TELEGRAPH