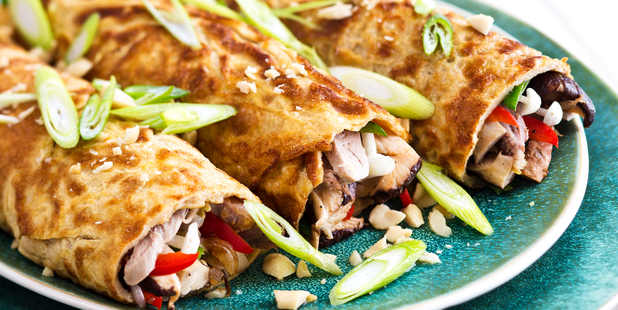 Serves 4
• 6 eggs
• 2 tsp soy sauce
• ¼ cup oil
• 2 shallots, sliced thinly
• 100g shiitake mushrooms, sliced thinly
• ¼ red pepper, sliced thinly
• 50g snap peas, sliced lengthways
• 1 cup peking duck meat, shredded
• Salt and pepper, to taste
• 1 Tbsp kecap manis
• ½ cup bean sprouts
• 1 spring onion, cut thinly on diagonal
• ¼ cup roasted peanuts, chopped, to sprinkle

1. Crack eggs into a bowl, add soy sauce and whisk.
2. Heat a little of the oil in a frying pan. When hot, add a quarter of the egg mix, enough to cover the bottom of the pan. Cook until lightly browned on the bottom and just cooked through. Slide out on to a plate, then repeat to make three more.
3. In the same pan, heat the last bit of oil. Add shallots, mushrooms, pepper and snap peas. Toss in pan for 3 or 4 minutes. Add duck and toss to heat through. Season with salt and pepper, then stir through the kecap manis.
4. Spread omelettes out and evenly divide filling, placing down the centre of each. Add a few bean sprouts and sliced spring onions. Sprinkle a few nuts, then roll.
5. Sprinkle a few extra slices of spring onion and chopped nuts on top and serve.

- VIVA