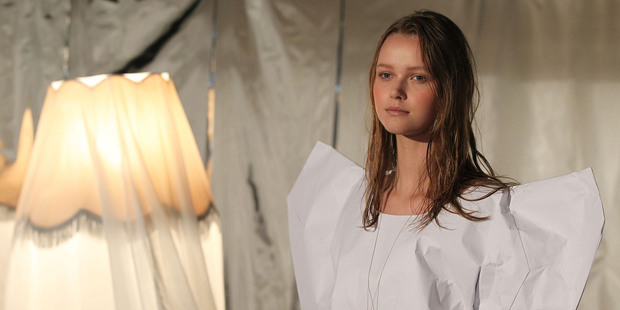 The biggest trend at fashion week is questioning fashion week's future. I've done it. Metro magazine has done it. And there have been several muted conversations about it at the venue this year. I think it's worthy of discussion - let's not kid ourselves, this year has been considerably more low key than previous years and the schedule is smaller. But while yes, Fashion Week needs the "big names" to keep it alive, it also needs fresh talent if it's to have a future.

Thank goodness then for the Underground installation on Wednesday. Held in the basement car park at the Sofitel hotel with dim lighting, Warholian silver backdrops, tequila and energy drink cocktails and pounding trance-like music, it felt like walking into some kind of surreal pop-up rave.
The point was to look at the installations created by a range of creatives, from Jimmy D's glitter bombed model having her own end of the world party to Maaike's creepy, candle lit living room, Underground Sundae's collection of white junk to Miss Crabb's simple but beautiful girl in a room.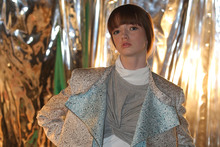 I really rate Liz Wilson and her brand Eugenie, so was excited to see her installation, a sort of stylish industrial work space. She's taking her time in releasing a collection available to purchase, and I respect that thoughtful approach.

AUT fashion design student Thistle Brown, who has already had one of his pieces feature in US Vogue, showed a preview of his graduate collection. Jessica Grubisa's suburban glamour was a popular pick too, with models lounging on chairs reading Woman's Day while wearing bejewelled gowns and oversized coats made out of tinsel - looking at ideas of phony displays of wealth.

"I wanted it to be a bit weird and like nothing else you'll see at fashion week," explained the event's organiser Chris Lorimer, who has become a champion for emerging creativity.

He described the event as a survey of local designers and photographers who he considers to be pushing the envelope - the kind of young edgy talent that keeps a fashion industry alive.

And you know what? It was fun. I left feeling more excited and positive about fashion than I have in a long time. And surely that's what fashion week should be about.

- VIVA