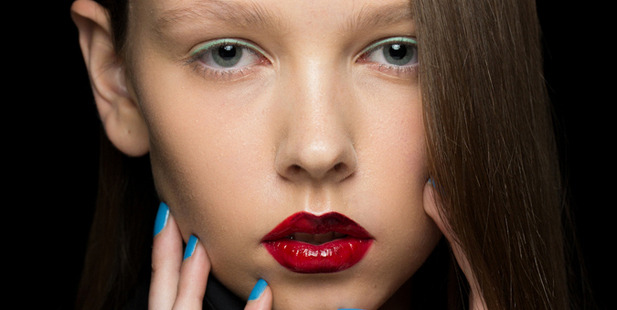 Vinyl lips at Hailwood and Zambesi showed the power of the pout as New Zealand Fashion Week's backstage beauty teams amped up the impact by evening of day one.
The shine story also showed in skin, with the luminous look seen to best effect at Coop, where icy pigment traced the temple and bridge of the nose, adding interest to a typically muted, at times minimalist, makeup palette seen at many shows.
That was why the glossy currant lip drawn by James Molloy for Hailwood and the lacquer-look red chosen by his M.A.C colleague Amber D at Zambesi were such standouts, paired as they were with hair that had a runway edge.
At Hailwood, Danny Pato for Joico came up with two glamour looks, one a cascade of mermaid waves and the other side-parted and closely sculpted.
At Zambesi, signature Stephen Marr styling saw centre-parted straight hair slicked forward on one side and back on the other. The textural interplay of wet and dry was taken to extreme by Lauren Gunn at Company of Strangers where a ropey, almost dreadlocked look was worked into hair.
This show also featured a strong silver metallic eye.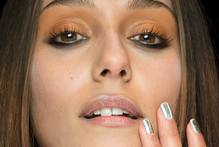 Holographic silver made an appearance on nails at Coop, in line with an underlying theme to many of the fashions on show which used fabrics with elements of shine, ranging from latex to lurex.
Hands up for surprise of the day, however, at Zambesi, where nails were sky blue and matched back to the model's socks.
- VIVA