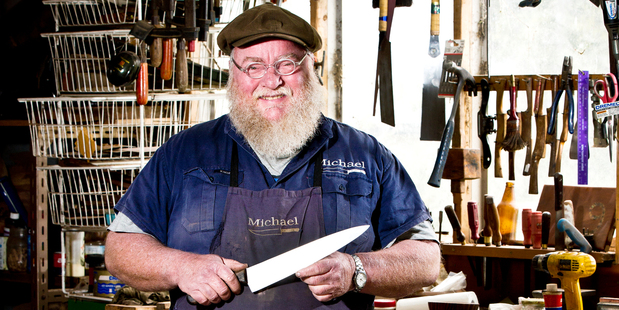 There's a saying that goes "You only ever cut yourself on a blunt knife". Whether that's true or not, there's no doubt that cooking when you have decent, sharp knives becomes a joy and sure beats clumsily pushing and sawing using a blunt one.
When Michael Bernard turns up at the Matakana Farmers' Market every Saturday he knows he's going to be kept busy sharpening upwards of 70 knives. He can transform the dullest of blades back to a gleaming thing of beauty, with the all-important honed edge, in the time it takes you to have a coffee.
Michael himself has spent his life in kitchens, as a chef in Auckland for 30 years before he went to sea, cooking on ships, followed by a stint as a restaurant owner. Now he's the guy that some of our best restaurant kitchens entrust with their knives and that's saying something. Each week Michael travels to the city to tend to the knives of the likes of Mekong Baby, Soul Bar, Foodstore, Clooney and others. He draws the distinction between residential and commercially used knives "A residential knife needs to be professionally sharpened about twice a year. For the restaurants, I have them on about a six-week cycle."
And his must-dos to keeping knives in good nick? "Most importantly, you have to know how to use your butcher's steel because that's what maintains the edge. And never put them in a dishwasher - it ruins the handles and the chemicals and movement during a cycle blunts them terribly."
It's not just kitchen tools that get the love and care from this professional sharpener.
"Spades, secateurs, axes, scissors, anything with a blade needs attention," enthuses Michael. "And I love the challenge of repairing knives. Perhaps the handle has gone on it or the tip has snapped off or you find one of your knives laying neglected in the garden - it happens! - people can't believe it when they see how I've restored their old knife."
If a visit to Matakana isn't on the cards, then book in for a home visit where, starting from $45, you can sharpen up with the best of them. To book, phone or text Michael Bernard 021 313 423.
- VIVA