There are just enough days left in winter, Angela Casley says, to enjoy these warming dishes perfect for hearty appetites.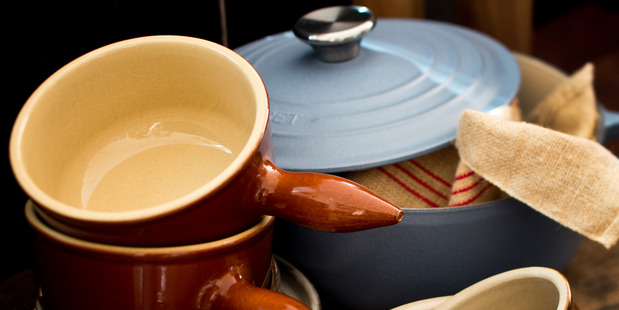 Soon we will be thinking spring. The days are teasing with a little more light in the morning and evening but there is still plenty of cool weather ahead to enjoy good winter fodder. It would be rare at this time of year for a few days to go by without some form of soup appearing on our table. Often I'll make a spicy pumpkin or vegetable one, with enough to last for lunches. We serve it accompanied with bread that's been topped with gruyere and then grilled.
An organised male friend of mine makes enough pumpkin and coconut soup to last him for weeks. He packages it into containers, labelled and frozen, so they are ready to take out each day. Homemade is just so much better and so easy.
The dishes on these pages this week are hearty, easy and tasty, created with men in mind.
Meat cooked on the bone is so succulent and juicy. In this Portuguese bean soup, the meat from the ham hock contributes to the chunky texture, along with the vegetables and beans.
Cabbage, added at the end, is optional - it's not everybody's favourite. But don't go without the chorizo or another spicy sausage. Traditionally, red kidney beans are used but I have opted for cannellini. If you feel the soup is a little thick, add more liquid. This is a hearty meal in itself that's great with hot bread to mop it up.
Here you will also find a shepherd's pie with a difference. The recipe was given to me years ago in England, where beetroot was picked straight from the garden and added to so many dishes. (We would also grate it fresh and fold through yoghurt and chopped fennel.Yum.)
Along with the grated beetroot and carrot, I have added a bit of spice for interest, but not so much that it overpowers the lamb. There is something very comforting about creamy mashed potato baked in the oven. The butter and onion add to the texture and flavour and the aroma is all too inviting. I serve the shepherd's pie with my favourite homemade tomato relish, but I confess the tomato sauce is seen on the table too!
Dishes like crumble are always a great standby as the ingredients are usually found in your pantry or fruit bowl. I love crumble and crumble cake - any fruit, to me, is delicious, and a combination is even better. It's such a great dessert to eat seasonally: with feijoa and apple, then plum in the summer, berries when we have an abundance of them and, while they are still in the shops, the exotic tamarillo with its slightly tart flavour. On its own, tamarillo can be a little overpowering, but combined with apple it's a pure delight. Serve it hot, straight from the oven, with vanilla icecream. The leftovers, eaten cold the next day, are just as delicious.

Recipes:
• Portuguese bean soup
• Shepherd's pie with beetroot and carrot
• Tamarillo and apple crumble
For more of Angela Casley's fabulous recipes, visit foodhub.co.nz
- VIVA