Address:
8c Turua St, St Heliers
Phone:
(09) 215 8332
Cuisine:
French
Rating:
7.5/10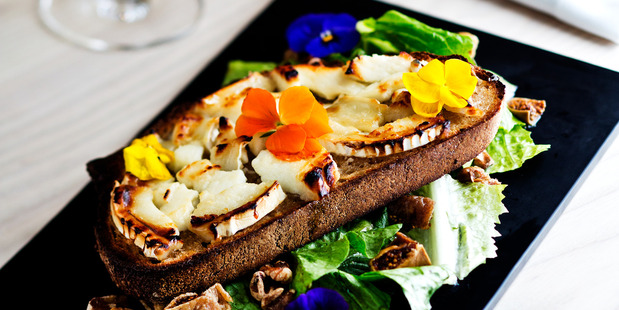 She emailed me two days after our dinner. "I can still taste that gorgeous duck confit and parsnip puree."
Two days later, not bad, because I too had found myself wistfully thinking back to the meal we'd shared at La Fourchette, the new French bistro in St Heliers.The simplicity of the fig and goat's cheese salad, the big flavours in the pissaladiere, that marvellous onion and anchovy tart that the French do so well ... aah, but I'm getting ahead of myself.
In a small back street in St Heliers, right opposite where I once flexed and jumped in after-school gymnastics as a 10-year-old, they've bowled the old buildings to make way for a new development, inevitably big on concrete and too new to have developed any soul or character just yet. The eatery that has taken up the lease is yet more proof that at last St Heliers has begun to attract the right sort of attention as an eating destination.
With its splendiferous views and wafting sea breezes, I've always lamented the relative mediocrity of the dining scene in this bay-side community.
But late last year the St Heliers Bay Bistro changed all that and now there's La Fourchette, another quality all-day cafe, patisserie and restaurant, this one run by the same folks as L'Assiette in Britomart.
The kitchen is headed by a dynamic young chef, Sophie Phipps (ex-Prego and Cafe Hanoi) and inside was jumping, when we arrived. Initially I was put off by being seated in the middle of the downstairs dining room, somewhat in no-persons land, mere inches from the next table. But the acoustics coped; we could hear each other speak - but not the neighbours, and it bears considering that in France this dining room set-up would be considered positively spacious.
Chef Phipps' menu ticks off all the classics, with boeuf bourguignon, steak frites, galettes, duck confit, and adds a list of pizzas, which I questioned in such a stunning French-centric line-up, but then found myself ordering the first on the list, the pissaladiere. It wasn't presented in the traditional tart form but the flavour was so out-of-this-world that we gave up our purist thinking. A thin crisp base was topped with plenty of soft, sweet caramelised onions combined with a big hit of anchovies, rosemary and olives. Marvellous.
A duck liver pate was outstanding, served with beautifully light toasted brioche, and the shepherd's salad was exactly the type of simple, light dish that I adore when in France - slender fingers of cos lettuce, ample soft and tangy warm goat's cheese on bread, honeycomb and walnuts.
When our waiter informed us that the pappardelle was made in-house, that was my main dish sorted. However, when it arrived I was less happy with my choice - the braised rabbit and wild mushroom was rich and full of flavour but the wide ribbons of pasta were far too thick. It was clumsy, where it should have been delicate. More successful was the confit of duck which produced silence, then raptures from the other side of the table.
Infused with orange and vanilla and scattered with pork (free-range of course) crackling, thick lardons and served on a sweet and musky parsnip puree, it was a shining example of what this dish can be. Confit of duck is commonplace nowadays so for me it has to be elevated in some way and the crackling did it for this dish, as did the inclusion of the hint of vanilla. It was a perfect modern bistro meal.
My dessert was half-good in that it was billed as a chocolate mousse but instead of a light, airy concoction what came out was a huge scoop of rich chocolate delice-like mound, which was heavy and grainy. However, the frozen milk and zest parfait on top was a different story - deliciously refreshing, cold and tingly on my tongue - and the chilli foam was surprisingly moreish. I could have happily eaten a bowl of these two components alone.
There's a lot to love about La Fourchette - the thin, grey-suited, pink-tied Frenchman who governs the dining room, the bustle and conviviality of the busy split-level dining room, the food - which is outstanding in places - and the overall "French-ness" of this neighbourhood beauty. A return visit in already planned.

From the menu: Pissaladiere pizza $22, Salad du Berger $16, Pate de Canard $16, Pappardelle with braised rabbit $32.50, Duck confit with lentils $35; Sides: wild mushrooms, gratin dauphinois $9 each, Delice de fruits $14.50, Chocolate mousse $14.50
Drinks: Fully licensed
- VIVA