A Fashion A-Z Guide to the 80s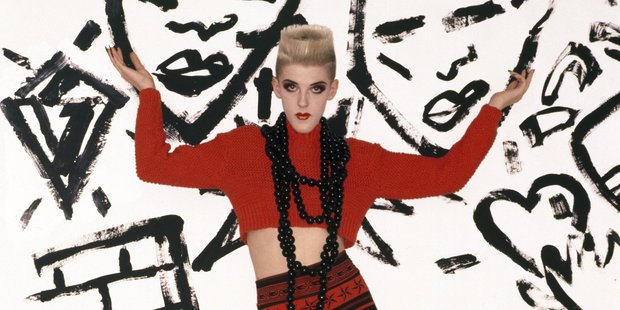 As an exhibition in London's V&A Museum celebrates style's decade of excess, we celebrate the movers and shakers who helped shape the way we dress - and think - today.
Armani, Giorgio
The man who defined the decade - from the shoulders down. His fellow Milanese maestro Gianni Versace may have been the showman, but Armani was the salesman. There were few Wall St masters (or mistresses) of the universe who didn't own his artfully deconstructed suits with their trademark relaxed shoulders.
Big business
Business defined the fashion of the 80s - and not just dressing for success. It was the decade where the fashion industry became dominated by business consortiums looking to make money from designer clothes, with the antics of fashion magnates drawing attention from the suits on the catwalk to those in the boardroom.
Chanel
It's difficult to believe that until 1983 Chanel was a somewhat fusty, rather fuddy house that no one much wore. Coco kicked le bouquet in 1971, and the house had floundered since - until Alain Wertheimer approached German designer Karl Lagerfeld to revive the house.
His approach? Not so much a kiss of life as a design defibrillation, shocking Chanel back into life by slicing inches off the hemlines and years off the average customer's age.
Diana, Princess of Wales
When a mousy, Sloaney Lady Diana Spencer was announced as fiancee of the heir to the throne, no one envisaged her blossoming into a fashion icon. Diana's 1981 wedding gown, a meringue of ivory silk-taffeta with flounced neckline and sleeves designed by David and Elizabeth Emanuel, was a highly visible example of New Romantic style.
Exercise
The gym wasn't just a place to go in the 80s, it was a way of life. The fitness craze sparked in the 1970s hit the mainstream in the 80s and created a new wave of fashionable attire. Not just the dreaded legging, but the whole body-conscious ethos of designers who included Herve Leger and Azzedine Alaia.
The Face
The go-to style guide of the period, with groundbreaking graphic design by Neville Brody. Notable for featuring a groundswell of young fashion and music talent throughout the era, well in advance of the mainstream press.
Gaultier, Jean-Paul
The designer who put men in skirts and women in conically seamed brassieres, Gaultier shot to fame as French fashion's enfant terrible. His gender-blending style was heavily influenced by London clubs, gay culture and streetwear, but combined with the finesse of his couture training.
Hats
Millinery made a comeback in the 80s. Stephen Jones was the main culprit: spotted wearing a fez in a Culture Club video by Jean Paul Gaultier, he created hats not only for him but fellow Frenchies Claude Montana and Thierry Mugler, and for Vivienne Westwood back in London. Other fans of mad hattery included Karl Lagerfeld in Paris and Moschino in Milan.
Imelda
The wife of the former Philippine president Ferdinand Marcos, Imelda entered fashion folklore in 1986 after she and her husband fled their presidential palace, leaving behind 15 mink coats, 508 gowns, 1000 handbags and 1060 pairs of shoes. Imelda's fashion faux pas became a symbol of the extravagance not only of her husband's regime but of the decade.
Jeans
Bleached, stonewashed, shredded and shrunk-to-fit: denim was a defining fashion choice of the decade. Fashion jumped on the bandwagon - Calvin Klein stamping his insignia across pairs that became pop-culture icons, and Levi's recruiting Nick Kamen to strip in a laundrette ad. They became such a fashion staple that Anna Wintour put them on the cover of American Vogue.
Kawakubo, Rei
Under the label Comme des Garcons, Kawakubo began showing her collections in Paris in 1982. To call them "revolutionary"in fashion terms isn't hyperbole - inspired by flat cutting of kimonos and the folds of Japanese origami, Kawakubo wrapped the body loosely in fabric rather than seaming and darting to fit, in diametric opposition to the Occidental tradition of fitted, highly tailored clothing. She challenged the idea of perfectionism, removing or loosening screws in machinery, for example, to create "holes" that spoke of the accident of the human, rather than machine-made flawlessness. Alongside Yohji Yamamoto, Kawakubo's work offered an alternative view of women.
Lacroix, Christian
Lacroix was the (sweetie) darling of the fashion world in the 80s. First designing for the house of Jean Patou, a dusty Parisian couture house which, Lacroix declared, "everyone had forgotten, so I had to shout for attention", he created outrageous clothes that epitomised the post-modern aesthetic. "Fashion today has to be like a caricature, larger than life," Lacroix said after he left Patou to found his couture house in 1987. His corsets, bustles and luxurious fabrics were the height of 80s excess. Clients included Madonna and Gloria von Thurn und Taxis.
MTV
How can a TV channel define a decade's fashion? MTV brought the world those other great 80s fashion "Ms" - Madonna, Michael Jackson and ... Matt and Luke Goss. The visibility of the medium was such that music videos quickly became akin to fashion shows, in turn influencing musicians to up their sartorial games.
New romantics
"Ridicule is nothing to be scared of," sang Adam Ant, bedecked in eyeliner and frogged bandleader's jacket. That could have been the motto of the New Romantic movement, born out of the dressier dregs of punk. New Romantics were fashion-docused club kids. The richest blew their student loans on Westwood and Galliano.
Only Fools and Horses
Del Boy's fashion choices may have three-wheelered down the dodgier ends of Peckham, but the series succinctly charted the fashion sense of the upwardly mobile young professionals.
The Pouf
The pouf, the puffball, the mini-crini. They all did roughly the same thing: pumped up the volume around your thighs in a questionable way, a full skirt abbreviated somewhere between mid-thigh and the knee. The pouf could work only if the top half was fitted - or, even better, corseted.
Quiff
Brylcreemed, Dax-ed and hairsprayed into attenuated perfection, the quiff was the slick hairstyle that topped many an 80s bonce. Johnny Depp in Cry Baby is a notable point of reference.
Ray-Bans
The quintessential sunglasses of the decade. Wayfarers were spotted on everyone from Don Johnson in Miami Vice to Tom Cruise in Risky Business. Cruise also sported aviators in Top Gun.
Stay Alive in 85
The title is a misnomer: what "S" really stands for is the slogan T-shirt, which rocketed to popularity in the early 80s. "Frankie say relax" was ubiquitous, but designer Katharine Hamnett was the first to wear her heart across her chest in 1983, when she began printing her concerns across T-shirts, including "Education not missiles".
Thatcher, Margaret
Like war, Mrs Thatcher had a deadening effect on the fashion industry. As profoundly conservative in dress as she was in politics, the PM nevertheless had a high-fashion profile. Westwood ironically posed as her on the April Fools cover of Tatler in 1989, while Katharine Hamnett's biggest fashion coup was upstaging the PM with the slogan "58% don't want Pershing" writ large.
Underwear
Either as outerwear or underpinnings, underwear was huge in the 80s. We've referenced Madonna in her conical brassiere, but the biggest underpants of them all came courtesy of Calvin Klein - literally more than 100 metres of them stretched over pole-vaulter Tom Hintnaus and splashed across the biggest billboard in New York's Times Square in 82, launching Klein's multimillion-dollar line.
Vogue
Not the magazine - although Wintour first edited British Vogue in 1986, moving to the United States arm of the title in 1988 - but the dance. Popularised by Madonna (again) and originating in the gay clubs of New York's Harlem, the name originated from the dance's mannequin-mimicking poses. Performed everywhere from Rio to Romford.
Westwood, Vivienne
New Romantic frills and furbelows, underwear as outerwear, the tube skirt, the crop top, the pouf, leggings and more can all be traced back to her febrile imagination. Despite a decade of creation alongside punk Svengali Malcolm McLaren in their shop at 430 King's Rd, Westwood had never shown on a catwalk. When she began, her collections became some of the most influential in fashion. Her style evolved from edgy, street-focused clothing during her time with McLaren (their professional partnership dissolved in 1984) to tailored, dressed-up garments by the close of the decade. Her methods of working, involving intense historical research and narrative storylines, inspired generations of designers including John Galliano and Alexander McQueen.
XXX
The 1980s were the first decade when sex was articulated so blatantly across international catwalks. Gaultier and Westwood trussed their models in corsets, Mugler stripped them down to underwear, while Alaia suggested you do away with it altogether for his suctioned-in dresses.
Yuppies
Young Urban Professionals - never a target market for designers but always cash-cows to be milked. Yuppie style featured daytime sharp suiting, switching to tuxedos and high-octane party frocks at night. Perennial accessories were newly invented mobile phones.
Zen
It's difficult to think of anything beginning with Z - but Zen is an apt way to finish as ... well, it was the fashion at the finish of the "Me" decade, taking us into the "Caring 1990s".