Celebrate Bastille Day on July 14 with a memorable feast chez toi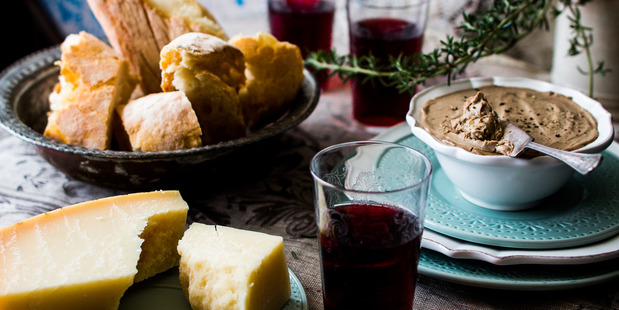 In France, what tastes good must also look good. Simple is best; meals whipped up in a flash from tasty morsels gathered at the village market, fresh and full of flavour. Bastille Day is no exception. The midday meal is central to the celebration and may go on until midnight. The French know how to party.
My one experience of Bastille Day in France was just that, and it was memorable. We were in Normandy, in a huge old farmhouse full of family and friends who had arrived from all over. The sun shone and the wine and food were non-stop. We interrupted our afternoon to run along the coast and refresh our minds before heading back for an aperitif and haul all hands on deck for dinner. What a feast we created, with many of my favourites - from warm goat's cheese to panna cotta and roasted figs - which we ate under the stars at 11pm, I think.
In France, of course, it's hot at this time of year and the Bastille Day picnic or leisurely lunch in the garden will usually be cold food, salads, meats and cheese rather than the hot soup featured here. However, it's winter in New Zealand and this onion soup is so quick to prepare and oh-so-French.Topped with oozing, gruyere-coated French bread, it hits the spot.
French onion soup is a meal in itself. I always add extra cheese, just because I can, and, after blue cheese, gruyere is my favourite. Parmesan is a great substitute. The keys to a good onion soup are well-flavoured onions and good stock, homemade, preferably, but a good quality bought one will be okay. Slow caramelising of the onions will bring out their sweetness and flavour. Then, of course, there's the yummy topping.
I don't think we make enough pates and terrines in this part of the world, but they are so easy. Once you have mastered the basics, you can add your own favourite touch - a hint of orange, herbs, liqueurs, nuts and more. This is a basic chicken liver that I have been making for years. A little chicken liver goes a long way. Serve very simply with fresh bread or crostini.
Crepes are so versatile, whether you're stuffing them with a savoury or sweet filling, flambeing them as in crepes suzette or, as here, eating them warm, rolled up with fresh lemon juice and sprinkled with sugar. This is one of those desserts where it is definitely okay to lick your fingers! Usually the crepe pan can't keep up with demand and these are best eaten straight away. However, if you are stacking them, place a bit of greaseproof paper between each and wrap tightly so they don't dry out. If they're not going to be eaten straight away, crepes can be reheated briefly in the microwave, or in the oven wrapped in tinfoil.
The ideal wafer-thin crepe depends on the thickness of your batter. And remember, do not over-beat the batter or it will become tough.
Recipes
• French onion soup
• Chicken liver pate
• Crepes


For more fabulous recipes from Angela Casley, visit foodhub.co.nz.
- VIVA